The Best Way to Boost Your Brain On-the-Go
The Best Way to Boost Your Brain On the Go
To keep up in today's fast-paced world, it's tempting to reach for a quick-fix energy drink or cup of coffee.
But be careful! Relying on caffeine and energy drinks actually makes you feel worse in the long run by causing an energy or sugar crash.
Excessive, long-term caffeine use is also associated with dehydration. A less-than-adequate daily intake of water can harm your brain and body in numerous ways by causing blood pressure concerns, sleep issues, moodiness, and jitteriness.
Drink More Water
Your brain is roughly 80% water, which means you need to stay well-hydrated in order to keep your brain functioning optimally. According to one study, thirsty participants who drank water before performing cognitive tasks reacted faster than people who didn't drink water beforehand.
Conversely, being dehydrated can decrease your cognition, increase your stress hormones, impair your judgment, and damage your brain over time.
Hydration is key not only to brain function but to whole-body health. Every system in the body needs adequate hydration to function properly. According to the Food and Nutrition Board of the U.S. National Academies of Science, Engineering and Medicine, women likely need at least 73 ounces of water and men at least 100 ounces, from all liquids they consume per day.
This confirms what most of us already know…we need to drink plenty of water each day. But what can be done for those who don't enjoy drinking water?
Brain Boost On The Go
BrainMD is proud to offer the natural energy drink Brain Boost On The Go. It was created for people who don't like drinking plain water all day – or who simply want some variety when seeking healthy hydration. Brain Boost On The Go includes brain healthy ingredients to boost your mental function and energy and comes in a delicious, refreshing flavor!
"Your active brain needs nutrients, but it also needs water. I put a Brain Boost On The Go stick in a bottle of water and I stay energized and focused." – Daniel G. Amen, MD
Benefits of Brain Boost On The Go
Whenever your brain needs a safe, swift pick-me-up, you can count on Brain Boost On The Go to provide the natural brain energizers that will leave you feeling sharp and focused.
Instead of drinking a high sugar, caffeinated energy drink that will invariably result in an energy crash, why not opt for the smarter choice? Brain Boost On The Go has a variety of brain healthy nutrients to increase your energy level and overall sharpness.
A unique aspect of Brain Boost On The Go is that it has a calming effect even as it boosts energy, enabling you to handle stress and be productive at the same time.
Brain Boost On The Go Ingredients
Here's a closer look at the potent ingredients included in Brain Boost On The Go:
L-Theanine
L-Theanine is the major mental focus component of green tea. In clinical research, it's been found to help enhance attention and is linked to increases of alpha and theta waves in the brain. Among its many benefits, L-Theanine:
Improves focus and clarity
Comes from decaffeinated green tea
Increases focus without the jitters
Vitamins B6, B12, and Folate
B vitamins are particularly important for mental energy because they are at the center of our cellular energy metabolism and are crucial for brain function. These vitamins and nutrients can help:
Promote cognitive health and mental sharpness
Support the synthesis of a variety of neurotransmitters
Facilitate the brain's huge demand for energy
Antioxidant-Rich Berries
The brain is our organ most vulnerable to attack by toxins, including the highly active free radicals that come from heated smoke entering the body by way of the lungs. Berries are the most concentrated sources of antioxidants in our foods and are a great way to help defend against free radicals. This proprietary blend:
Contains organic fruits and berries: blueberry, goji, mangosteen, and noni
Helps protect the brain, nerve cells, and all our cells from oxidative stress
Supports healthy cognition including memory, learning, and mood
Brain Boost On The Go FAQ
Can children take Brain Boost On The Go?
Yes, Brain Boost On The Go is for children too – they love it!
Does this product contain sugar?
No, Brain Boost On The Go is sugar-free. It is sweetened with stevia, xylitol, and inulin.
Can this product boost energy levels?
Yes, Brain Boost On The Go supports the body's natural energy generation.
Does it have caffeine?
This natural energy drink is caffeine-free.
What Others Are Saying
       Fights Fatigue

"These small packages are amazing. During the day when I feel fatigued, I will take one and notice the difference in the mental capacity and I can say I feel more productive. I will highly recommend it to fight daytime sluggishness." -Vic

       This Works!

"A terrific alternative to caffeine. Tasty, convenient, and works well!" -Lydia
Feed your brain with easy-to-carry drink sticks that add nutrients and flavor to your daily hydration.
At BrainMD, we're dedicated to providing the highest purity nutrients to give you the energy, focus and mental sharpness you need to lead a brain-healthy life. For more information about Brain Boost On The Go and our full list of supplements, visit us at BrainMD.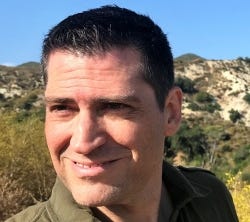 Latest posts by Keith Rowe
(see all)