2 Healthy Fruit Dessert Recipes Made with Nature's Bounty
While the days are waxing longer and summer awaits, nature is overflowing with delicious fruit!
Two of the "Crown Jewel" fruits of the spring season are strawberries and peaches.
Full of color, fiber, vitamins, phytonutrients, and minerals, these fruits are both highly nutritious and naturally sweet. They make for perfect healthy spring desserts for the brain and body.
About Strawberries
Berries are known for their low-sugar, high-antioxidant content and strawberries are no exception.
Hydrating, fibrous, and low in carbohydrates, they're a great go-to for low-carb eating plans. With their luscious color and texture, sweet taste, high vitamin C, and rich mineral (potassium, folates, calcium, and magnesium) and polyphenol content, there's a lot to love about this fruit.
Strawberries' health benefits are impressive. They help support skin and immune health, and healthy blood sugar levels in the body. Also, they help protect against heart, brain, and cellular health issues.
Healthy Strawberry Cake Shortcake Recipe
Made without refined sugar, refined white flour, cream, or butter, you can enjoy this slight twist on the traditional shortcake dessert without compromising your health!
Ingredients
Cake
½ cup almond flour
2 cups organic gluten-free oat flour
3 tablespoons arrowroot powder
2 teaspoons baking powder
½ teaspoon fine salt
¼ cup plain, unsweetened organic soy milk (or your preferred plant-based milk)
½ cup pure maple syrup*
½ cup melted unrefined coconut oil
1 tablespoon pure vanilla extract
Strawberry Filling
2 cups sliced, organic strawberries
1 tablespoon pure maple syrup*
Whipped Cream
1 can full-fat coconut milk, about 15 ounces
2 teaspoons pure maple syrup* (or to preferred sweetness)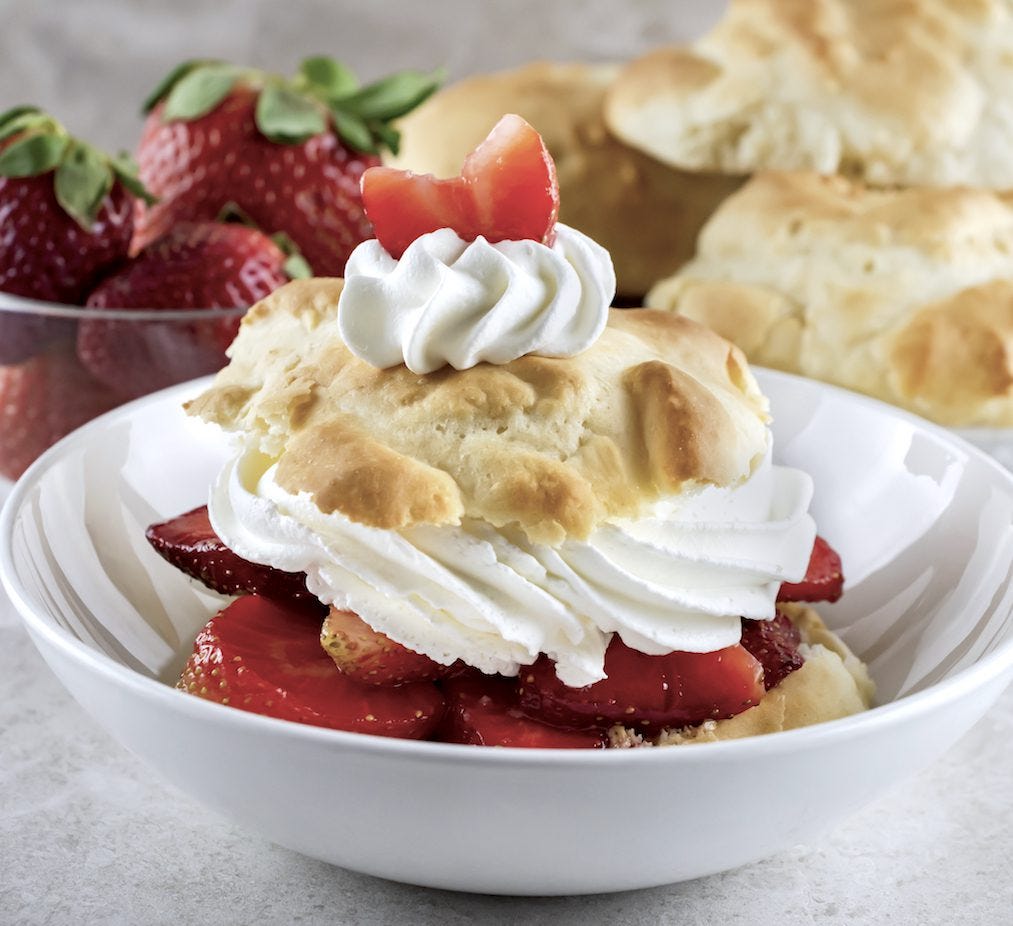 Instructions
The night before baking, place your full-fat coconut milk in the refrigerator.
Preheat oven to 350° Fahrenheit. Lightly grease two 8" x 4" loaf pans with coconut oil.
Add together and mix oat flour, almond flour, arrowroot powder, baking powder, and salt with a whisk in a large bowl.
Add soy milk, maple syrup, coconut oil, and vanilla, and whisk again until well combined with no visible clumps. Don't overmix.
Divide the cake batter evenly between the two greased baking pans. Bake for 30 minutes.
While the cake bakes, stir together the sliced berries and maple syrup in a bowl and set aside.
Open the can of chilled coconut milk. You'll see a firm creamy, waxy layer on top. Scoop out this solidified coconut cream into a bowl. Stop as soon as you reach the water at the bottom of the can; include only the solid cream.
Whisk or beat coconut milk on high speed until it becomes light and fluffy, roughly 3 to 5 minutes. Whisk or beat in 2 teaspoons of maple syrup.*
When the cake is finished baking, allow it cool fully. (You don't want to melt your coconut whipped cream!)
When the cakes have cooled, remove them from their pans. Gently spread the coconut whipped cream on top of the first cake and then top with one layer of strawberry slices. Add the second layer of cake on top and repeat with the whipped cream and strawberry slices.
Depending on portion size desired, slice cake into 6-8 slices. Add an extra dollop of whipped cream and one whole strawberry on top before serving!
*Or use maple-flavored monk fruit syrup as a low-carb sugar alternative.
About Peaches
While not quite as low as strawberries, peaches are still considered a low-carb, low-sugar fruit. The peach delivers a decent amount of vitamins A and C, fiber, and an array of other nutrients including vitamins E and K, niacin, folate, iron, choline, potassium, magnesium, phosphorus, manganese, zinc, and copper – as well as polyphenols.
Peaches support eye health, immune function, skin health, and healthy blood sugar levels. Its nutrients help protect against brain, heart, and cellular health issues.
They are satiating as well, which can be helpful to maintaining a healthy weight – just in time for summer!
Healthy Peach Cobbler Recipe
Ingredients
Peach Filling
4 cups of fresh, organic sliced peaches
3 tablespoons of pure maple syrup*
1 tablespoon tapioca flour
1 tablespoon cinnamon
½ teaspoon ground nutmeg
Cobbled Topping
1 cup of organic oat flour
¾ cup of almond flour
2 tablespoons of tapioca flour
¼ cup of salt
¼ cup of melted coconut butter
½ cup of full-fat coconut milk
¼ cup of pure maple syrup*
1 teaspoon vanilla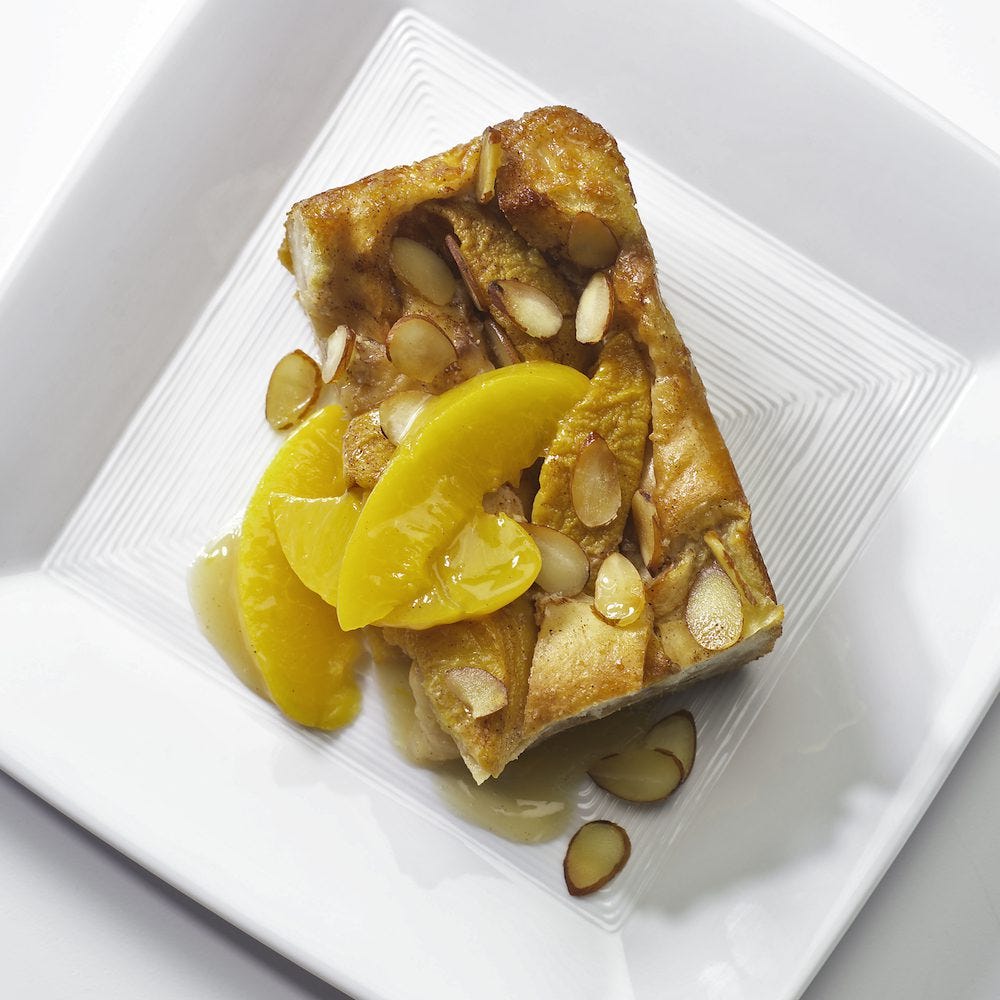 Instructions
Preheat oven to 375° Fahrenheit.
Lightly grease an 8- or 9-inch square baking dish with coconut or avocado oil.
Place filling ingredients in a large mixing bowl, stirring to evenly coat peaches. Transfer to baking dish.
In the same mixing bowl, add oat flour, almond flour, tapioca flour and sea salt. Stir to combine.
Add in melted coconut butter, full-fat coconut milk, pure maple syrup* and vanilla. Mix again to form batter.
Use a spoon to drop dollops of the batter on top of the peaches, leaving some gaps between dollops and space around the perimeter of the baking dish.
Place skillet in the oven and cook for 25-30 minutes, until peaches bubble and topping turns a golden brown.
Top with fresh coconut whipped cream (see Whipped Cream in the Strawberry Cake Shortcake recipe above).
*Or use maple-flavored monk fruit syrup as a low-carb sugar alternative.
Celebrate Spring & Summer
These delicious spring fruits are a gift of nature. Enjoy!
At BrainMD, we're dedicated to providing the highest purity nutrients to improve your physical health and overall well-being. For more information about our full list of brain healthy supplements, please visit us at BrainMD.

Latest posts by Kim Henderson
(see all)