Here Are Some of the Benefits of Going On a Nature Adventure
We don't need science to tell us that traveling is good for our mental health, or that nature makes us feel better. If you travel or spend time outdoors, you probably already know this to be true.
But science does confirm this.
The health benefits of traveling are well documented. Travel has been shown to boost creativity, mood, and physical activity.
Numerous studies show that nature has a highly beneficial effect on the brain, too. It promotes greater well-being by helping to alleviate stress, anger, and fear, and it makes us more caring and empathetic.
Physically, time in nature (or even looking at images of nature), helps to support healthy blood pressure and heart health, as well as lessen muscle tension and the production of stress hormones, which can boost immune function.
Going on a nature adventure can be a powerful and enjoyable combination for greater well-being.
A few years back, I took a nature adventure of my own. It wasn't without challenges. But I continue to reap benefits from the experience, even to this day.
To the Amazon?
When I agreed to lead a writing workshop in the Peruvian Amazon, I wasn't exactly thinking about the health benefits of forest bathing or being away from electromagnetic frequencies (EMFs), or the brain health benefits of traveling to foreign country.
To be honest, I wasn't entirely sure I wanted to go.
Leaving my 12-year-old daughter to travel somewhere so wild, untamed, and remote with no roads, cities, or electrical transmission or cell phone towers, made me nervous.
Add to that the real dangers that exist in the Amazon rainforest – such as exposure to infectious diseases, poisonous insects, and predators like giant snakes and jaguar – and I wondered if going was being downright irresponsible. What if something happened to me?
There are times when measured risks are worth taking. In this case, the rewards far outweighed the risks.
At Home in the Jungle
So off I went with a small group of writers and climate scientists on our nature adventure, sponsored by the Amazon Center for Environmental Education and Research, to a foreign land and the oldest and most biodiverse ecosystem on earth.
After two flights, an overnight stay in Lima, a bumpy bus ride, and a riverboat ride, we arrived at Posado Amazonas, our eco-lodge, located in the Madre De Dios region of the Peruvian Amazon.
We stowed our belongings in our rooms and headed out to the nearby watchtower, where we could get a sunset view of the majestic Amazon.
Single file, we made our way for our first walk in the forest.
A trail of leaf cutter ants greeted us and continued to zig zag across our path throughout our trek. I noticed how our guide asked us to tread carefully so as not to step on them.
A native to the area, he held a healthy reverence for forest life, both great and small. His deep knowledge and understanding of the plant and animal life commanded our trust and respect.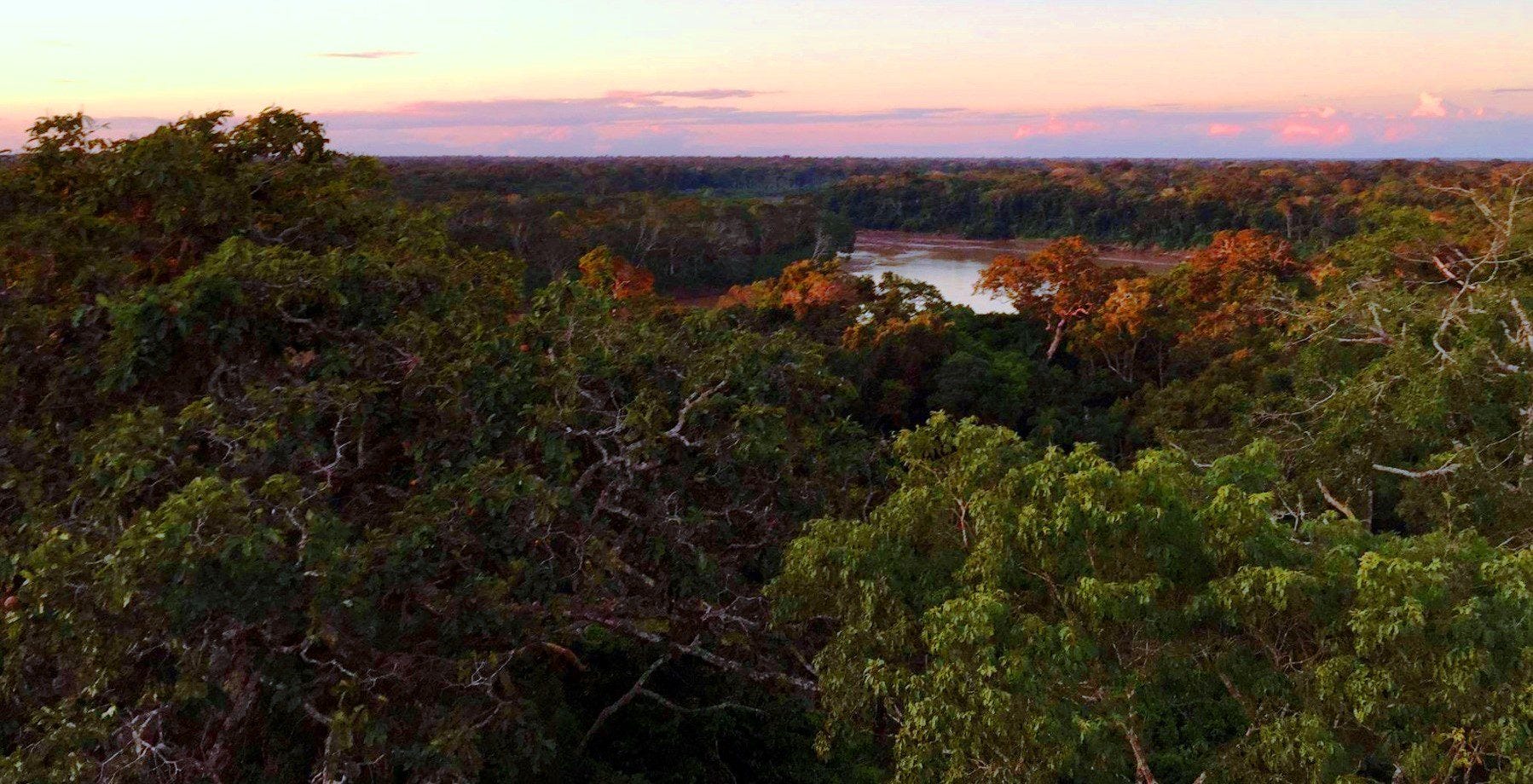 We climbed to the top of the watchtower just in time to catch the last bit of sunlight as we looked out at the Amazon and the Tambopata River in all its glory. For as far as the eye could see, there was a blanket of forest treetops, punctuated on one side with the winding curves of the Tambopata. There were no buildings, no lights, no roads, and no dwellings – just deep, green forest illuminated by the light of the setting sun.
In this first hour in the Amazon, surprisingly, I felt safe and very much at home.
Nature's Energy
The next morning, a colleague and I returned to the watchtower. This time, it was just the two of us and our guide. It wasn't long after sunrise when we finally reached the top of the tower. The sun quickly rose and bathed the steaming Amazon in its golden rays.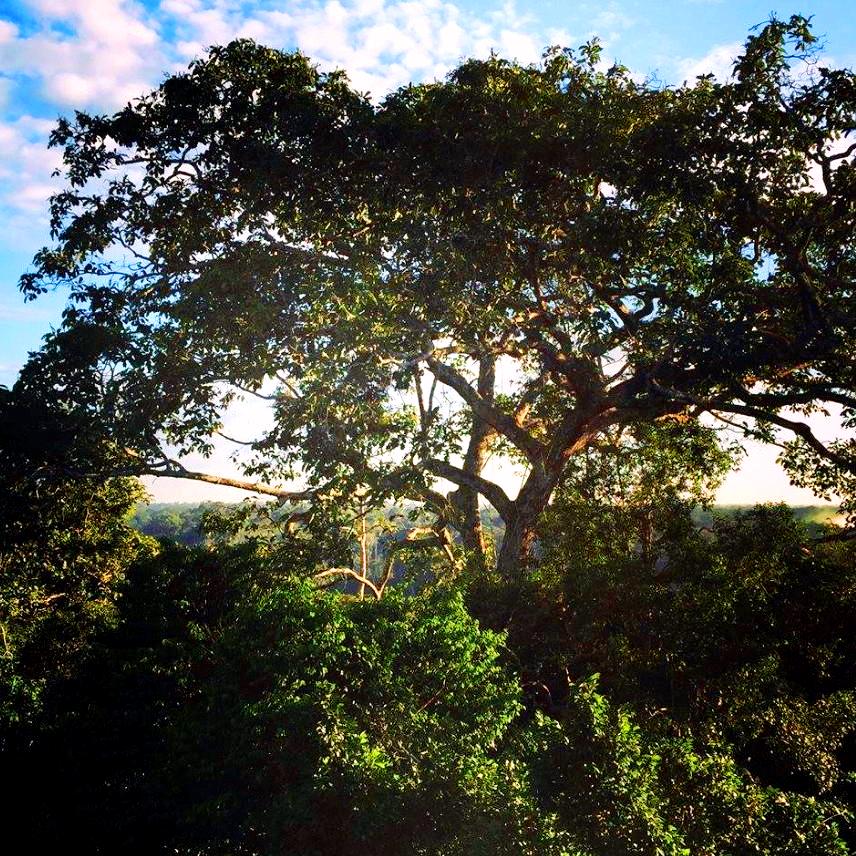 The view was breathtaking. In the darkness the previous evening, I had missed the most glorious Brazil nut tree. Confidently standing before us at approximately 160 feet high, it took center stage in the forest canopy. Hosting a variety of tropical birds, it looked like the very tree of life itself!
I observed the Brazil nut tree for a long time, absorbing its quiet strength and mature beauty.
While I'd left my electric-powered world behind, here in the lap of nature, I felt a different power. The entire rainforest was abuzz with energy, the life energy pumping through all the biodiversity surrounding me.
In a flash, a flock of scarlet Macaws flew before me. I'd never seen such a magnificent bird outside of captivity, flying free in its natural environment. It was truly a wondrous sight.
Again, I was surprised at how comfortable, whole, and relaxed I felt among the trees, birds, and many other creatures. There's something primal, positive, and life-giving about the rainforest.
That was just the beginning.
A Nature Adventure Awaits
Nature restores us in ways that are unquantifiable. Since returning from that trip, our writer's group has continued to meet online every month. We even united once to meditate and write atop a building in Venice, California.
Traveling to the Amazon together bonded us, provided us with a new perspective, fueled our creativity, and deepened our spirituality and well-being.
Is there a nature adventure you're considering? Maybe now is the time to book it!
(If you're unable to travel to the Amazon at this time, you still can help protect it every day by applying the practical principles in Kim's book, 50 Simple Steps to Save the World's Rainforests.)
At BrainMD, we're dedicated to providing the highest purity nutrients to improve your physical health and overall well-being. For more information about our full list of brain healthy supplements, please visit us at BrainMD.

Latest posts by Kim Henderson
(see all)