3 of the Best Ways to Become a Brain Warrior
The war for your health is won or lost in your brain.
When your brain works right, your decisions are more likely to have a positive effect on your life. When your brain is troubled, your decisions are more likely to have a negative, even catastrophic, impact on your life.
As the executive control center of the entire body – and the supervisor of every thought, mood, memory, and action – your brain makes you you. That's why you must do everything you can to take care of your brain.
Becoming a Brain Warrior
Becoming a brain warrior is for those who, either out of desire or necessity, are serious about their health. It's for people who want to look and feel their best for as long as possible and for those who want to excel at work and school and in their relationships.
Being a brain warrior is also for those who want to leave behind a legacy of health rather than illness. But the rewards of living a brain-healthy life can have far-reaching implications for you and even future generations.
If you want to become a brain warrior, here are 3 effective ways to maximize your health and sharpen your brain…
3 Practical Ways to Become a Brain Warrior
Train Like a Warrior
To be a warrior, you need to train like a warrior. The war for your health is very real, which is why you should stretch, train, exercise regularly, and prepare every day for the battles that lie ahead.
Consistent training will prepare you for the obstacles you may face on your way toward optimal well-being. Maintaining a strong mind and body can help equip you to handle possible crises or health problems in the future. Being an effective coach means being a good example for those you lead, so model a healthy, active lifestyle that others can follow.
High-quality Nutrition
When it comes to getting healthy, losing weight, or preventing illness, the quality of your food makes a huge difference. Be sure to eat foods packed with the nutrients your body needs and can effectively absorb and digest. Be serious about high-quality nutrition, which provides nutrients that can help supercharge your brain.
Engage in New Learning
When you learn something, new neural connections are created, which improves your capacity to remember. On the other hand, when you stop learning, cognitive performance suffers as the internal connections in your brain begin to break apart. Regardless of your age, mental exercise has an overall positive effect on your brain – the more you use it, the stronger it gets. One of the best ways to keep your brain agile is with the online, self-improvement courses at Amen University.
Brain Health Licensed Trainer Course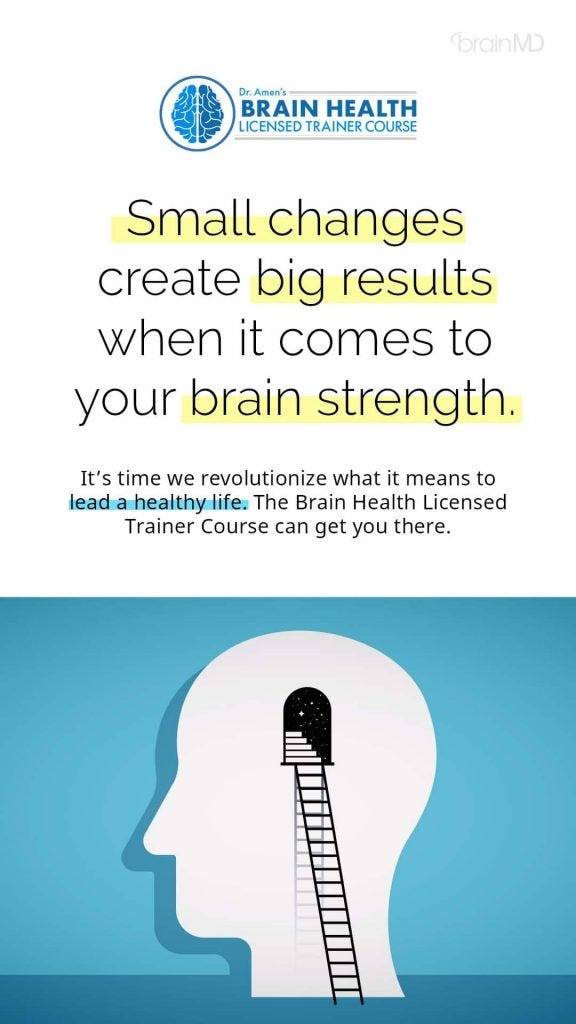 Are you looking for ways to better serve your clients by incorporating brain health into your coaching? Do you want to improve your clients' ability to successfully reach their goals by coaching them to better brain health?
If you answered yes to those questions, Amen University's Brain Health Licensed Trainer Course is for you!
The Brain Health Licensed Trainer Course is ideal for coaches, consultants, and educators of all specialties.
What You Get:
6 hours of in-depth video training from Daniel Amen
Teaching slides for 4-hour workshop for lay organizations
License to teach this course in organizations from Amen University
Companion workbook with assessments, worksheets
Tips on how to use what you learn to synergize your business and transform lives
25% affiliate commission on all BrainMD products purchased by your clients
Bonus Content:
Brain Thrive by 25 – a 12-part course to help secondary and college students develop healthy brains
Memory Rescue – an in-depth course to improve learning and memory at any age
With forethought and a clear plan, the Brain Health Licensed Trainer Course can help you boost your brain and improve every area of your life and the lives of those you serve.
Are you ready to take your first step in becoming a Brain Warrior? Enroll today!
For more information about the Brain Health Licensed Trainer Course, click here or visit Amen University.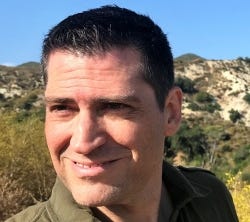 Latest posts by Keith Rowe
(see all)