These Are the Best Vitamins to Boost Your Energy
Do you struggle with having enough energy to get through the day? Unfortunately, many people in similar circumstances have resorted to chugging energy drinks to help increase their energy levels.
Energy drinks are the fastest-growing part of the beverage industry. Most energy drinks contain large amounts of caffeine, sugar or artificial sweeteners, and other stimulants like guarana, which only provide a temporary energy spike. That short-lived boost is often accompanied by other problems, such as:
Nervousness
Headaches
Upset stomach
Irritability
Insomnia
Rapid heartbeat
Increased blood pressure
Those who are desperate to increase their energy levels may be tempted to try unhealthy methods. Energy boosters to avoid include diet pills, energy drinks, excessive coffee, sugar-filled caffeinated sodas, and smoking. All of these are harmful to the health of your brain and body.
2 Best Ways to Boost Energy Naturally
At BrainMD, we believe that the best way to attain and maintain peak performance, both physically and mentally, is to be as natural as possible. We recommend whole, healthy foods, with supplements to fill any nutrient gaps first and foremost before putting medications or other harmful substances into your body.
Our line of brain-healthy vitamins, essential minerals and other supplements are ultra-pure, clinical strength and brain directed. The ingredients in these high-quality supplements come from the finest sources, have undergone rigorous clinical testing and have been formulated for maximum absorption and utilization by the body's 30 trillion cells. They enhance your body's built-in energy enzymes, allow you to boost your energy as you need it, and give you improved capacity to handle stress or mental strain.
If you regularly experience periods of low energy, what should you grab instead of coffee or an energy drink?
 1. Brain Boost On the Go
BrainMD is proud to offer the natural energy drink Brain Boost On The Go. It was created for people who don't like drinking plain water all day – or who simply want some variety when seeking healthy hydration. Brain Boost On The Go includes brain-healthy ingredients to boost your mental function and energy and comes in a delicious flavor.
Whenever your brain needs a safe, swift pick-me-up, you can count on Brain Boost On The Go to provide the natural brain energizers that will help you feel sharp and focused.
Instead of drinking a high sugar, caffeinated energy drink that will invariably result in an energy crash, why not opt for the smarter choice? Brain Boost On The Go has a variety of brain-healthy nutrients to increase your energy level and overall sharpness.
A unique aspect of Brain Boost On The Go is that it has a calming effect even as it boosts energy, enabling you to handle stress and be productive at the same time.
What's in Brain Boost On-The-Go?
L-Theanine
L-Theanine is a major mental focus substance naturally occurring in green tea. In clinical research, it's been found to help enhance attention. Among its many benefits, l-theanine:
Improves focus and clarity
Has a gentle, relaxing effect without making you sleepy
Doesn't give you the jitters since it's caffeine-free
Vitamins B6, B12, and Folate
B vitamins are particularly important for mental energy because they are at the center of our cellular energy metabolism and are crucial for brain function. We use the most effective vitamin B6 forms, along with the more expensive methyl forms of folate and B12 because they are safer to use and are more natural to the body. Vitamin B6, methylfolate and methylB1 can help:
Promote positive mood and calmness
Are essential for the brain to make several major neurotransmitters
Support memory, other cognitive health and total mental sharpness
Antioxidant-Rich Berries
The brain is our organ most vulnerable to attack by toxins, including all the environmental toxins and the highly active free radicals that come from air pollutants, passive smoke inhalation, and any form of heated smoke entering the body by way of the lungs. Berries are the most concentrated sources of antioxidants in our foods and are a great way to help defend against free radicals. This proprietary blend:
Contains organic: blueberry, goji, mangosteen, and noni
Helps protect the brain, nerve cells, and all our cells from free radical oxidative damage
Supports healthy memory, learning, decision-making, mood, and behavior
If you want to naturally improve your athletic, school or work performance, or just want more focus and energy to get you through the day, we've got just what you need…
 2. Focus & Energy
It's not uncommon for people to have periods where they feel tired or unfocused. BrainMD's Focus & Energy was designed to promote sharpness, improve mental and physical productivity and prevent fatigue without lowering blood sugar.
Unlike many other dietary supplements, Focus & Energy provides nutritional and medicinal plant concentrates that are traditionally used as adaptogens and are clinically researched for these benefits. Its potent green tea extract is high in EGcG and other polyphenol antioxidants and was chosen specifically to intensify blood flow that enables oxygen and nutrient delivery to the brain.
What's in Focus & Energy?
Focus & Energy also contains three highly concentrated plant adaptogens:
Ashwagandha is an Ayurvedic medicinal revered over thousands of years for its mental sharpening benefits. Modern clinical research reveals it is also superb for coping with stress and occasional anxiety.
Rhodiola thrives in the most extreme Siberian climates and is a favorite in the East. This concentrate is doubly standardized and has shown strong anti-stress benefits in clinical trials.
Asian (Panax) ginseng leads all other ginsengs for its almost immediate mental focus benefits. This concentrate is loaded with 15% brain-active ginsenosides and has been subjected to intensive research, with excellent results.
Focus & Energy is formulated specifically to reinforce the brain and body's ability to fight fatigue and adapt to stress. It also contains choline, a vitamin-like nutrient that helps the brain make the key transmitter acetylcholine and has other metabolic pathways that promote endurance and vigor. Choline is so important it now has a Daily Value nutrient requirement set by the FDA.
If you're looking for a safe, effective, and natural way to support your energy while sharpening your mental faculties, Focus & Energy can help fortify your body with specially selected nutrients and medicinal plant substances that provide enhanced mental focus and sustained energy. And unlike the energy rush, you can get from your stimulant of choice (coffee, diet soda, caffeine pills), there's no dramatic drop in mood and energy with this dietary supplement. Focus & Energy is safe, natural and non-habit forming.
To be successful in today's world, you need a clear mind and sharp focus. Brain Boost On The Go and Focus & Energy are two of the best ways to help you achieve your goals. At BrainMD, we're dedicated to providing the highest purity nutrients to give you the attention, focus, and energy you need to do the things you love.
For more information about our full list of supplements, please visit us at BrainMD.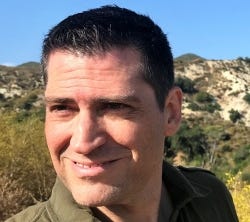 Latest posts by Keith Rowe
(see all)