7 Scary Good Ways to Use the Whole Pumpkin + Recipes!
Did you know there are many ways to enjoy a Halloween pumpkin before and after carving it into a festive jack-o'-lantern?
Better yet, if you adopt some of the ideas below, you won't need to throw your pumpkin away, which provides the added bonus of helping the environment (more than 1 billion pounds of pumpkin ends up in landfills every year, where it turns into the greenhouse gas methane).
So, plan ahead and savor the season by incorporating one or more of these creative and sustainable ideas into your Halloween jack-o'-lantern tradition.
7 Scary Good Ways to Use the Whole Pumpkin This Halloween!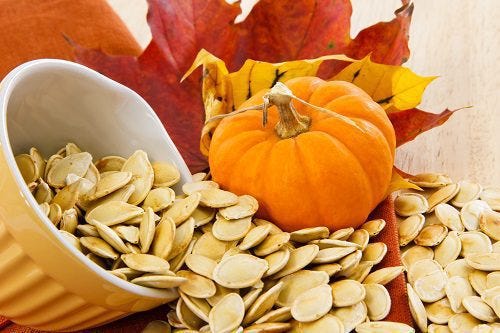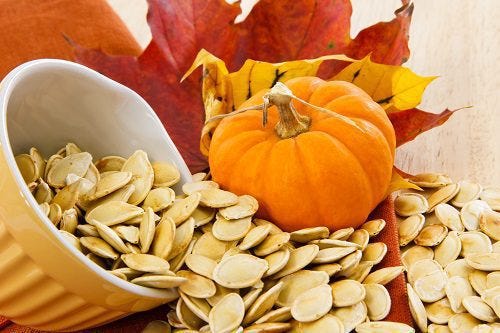 1. Roast the Seeds for Eating
Though jack-o'-lantern pumpkins aren't the best for eating, as they have thinner flesh and are stringier than sugar pumpkins, they do have lots of seeds! Pumpkin seeds are delicious, especially when roasted.
They're a treasure trove of nutrition as well – loaded with vitamins, minerals, antioxidants, fiber, healthy fats, and protein. They support health in many ways including promoting healthy blood flow, blood pressure, immune function, and blood sugar, to name a few.
Cut a hole in the top of your pumpkin, scoop out the seeds and place them in a large bowl. Fill the bowl with water and use your hands to separate the seeds from the stringy flesh. Place the seeds in a colander and spray or rinse them in water, using your hands as needed to remove any additional stringy flesh, until they're thoroughly cleaned.
Set them aside to dry. They can be enjoyed raw, but they're especially good roasted. See our Roasted Pumpkin Seed recipe (below)!
2. Save the Seeds for Planting
If you don't want to eat the seeds, plant them! Follow the steps above until the seeds are dry, then store them in a brown paper bag for a month.
After a month, discard any seeds that show signs of rot or mold. Label your good seeds and store them in a dark, cool place until spring rolls around and you can plant them.
3. Make Pumpkin Stock
Jack-o'-lantern pumpkins may not be great for eating, but the fibrous strands can make a wonderful pumpkin stock. Homemade pumpkin stock can be used for hearty soups and chowders.
After you scoop out your pumpkin, separate the seeds from the strings. Place the strings in a big stock pot with veggies like onion, carrots, celery, and garlic, etc. Add a bay leaf or two, cover with water, and simmer for about an hour, stirring occasionally.
Simply strain out the veggies, and voila, you have a lovely stock you can use right away or freeze for future use.
4. Done with It? Compost It!
With its abundance of nutrients, pumpkin can make a fantastic addition to your compost. If you have a compost heap, just toss the pumpkin on top. However, if you have a compost bin, you may need to cut it into pieces.
Don't compost? Don't worry. Chances are pretty good there's a community compost near you. Check your city website or a neighborhood app to find out.
5. Leave It for Local Wildlife
Do you live in an area with an active wildlife population? Cut your pumpkin into pieces and leave them out for local wildlife, away from the road. Be sure to remove any candles or wax.
Deer, raccoons, squirrels, foxes, rabbits, coyotes, gophers, badgers, and birds are common wildlife that may eat pumpkin. Wildlife can struggle to find food in the fall so some bits of pumpkin might be a welcome treat!
6. Make a Feeder or a Planter
This is a really fun thing to do with young kids. Plan ahead to make a bird feeder out of your jack-o'-lantern.
After you've carved your pumpkin, dip it in a large bucket of vinegar solution: one part vinegar to four parts water. That will help it to last longer.
After Halloween, remove any candles or wax, and fill the bottom with a layer of bird feed. If you want to hang the pumpkin, carve out a section of the back so you can see the birds eating.
Another idea is to turn your jack-o'-lantern into a festive flower planter, or hollow out a jack-o'-lantern that wasn't carved and transform it into a fall flowerpot.
You can also place the whole plant (sans the pot) inside the pumpkin, then bury the pumpkin in the ground. The pumpkin will break down in the ground, fertilizing the plant as it decomposes.
7. Make Pie from Sugar Pumpkins
Include some smaller sugar pumpkins with your Halloween displays, but don't carve them. After Halloween, use them to make fresh pumpkin pie! See the recipe below to make the puree and pie.
Carve Out A New Tradition
These are just a few healthy recipe ideas. If you have some of your own, please share them below. Enjoy!
Fresh Sugar Pumpkin Pie
(Don't use a jack-o'-lantern pumpkin for this recipe, only sugar pumpkins)
Fresh Sugar Pumpkin Puree
Preheat oven to 325°F. Halve the sugar pumpkins crosswise and place them, cut sides down, on a foil-lined baking sheet. Cover the entire sheet with foil, tenting it over the pumpkins and crimping the edges.
Bake until the flesh is very tender, usually about 1 ½ hours.
Remove the foil and let the pumpkin halves cool. Remove the seeds, scrape the flesh into a food processor and puree (or strain) until smooth.
Ingredients
2 cups pumpkin puree
3 eggs
¼ cup pure maple syrup
¼ cup coconut sugar (or organic cane sugar)
¼ cup unsweetened almond milk (or any milk alternative)
1 teaspoon vanilla extract
1 ½ teaspoons cinnamon
1 tablespoon of pumpkin pie spice
¼ teaspoon salt
1 gluten-free pie crust
Instructions
Preheat oven to 350°F.
In a large bowl, add pumpkin puree, eggs, pure maple syrup, coconut sugar, milk, vanilla, cinnamon, pumpkin spice, and salt. Mix until well combined and completely smooth. Pour into pie pan.
Bake for 50-60 minutes until filling no longer jiggles. Check pie every 20 minutes to make sure crust isn't burning. If it's getting too golden brown, just cover pie edges with foil or a pie shield.
Allow pie to cool an hour before serving. Top with whipped cream or ice cream! Serves
Roasted Pumpkin Seeds 
Preheat oven to 350°F.
Toss your fresh raw pumpkin seeds in a bowl with olive oil, salt, garlic powder, paprika, and black pepper to taste.
Spread and separate the seeds evenly on a lightly greased cookie sheet for even roasting.
Place sheet in the oven for about 12 to 15 minutes, making sure to toss the seeds every 5 minutes for even browning. You'll know they're ready by their gold brown color and nutty aroma!
Enjoy as a snack, on yogurt, or topped on healthy pumpkin muffins.
At BrainMD, we're dedicated to providing the highest purity nutrients to improve your physical health and overall well-being. For more information about our full list of brain healthy supplements, please visit us at BrainMD.

Latest posts by Kim Henderson
(see all)