Simple Tips to Making Healthy Granola at Home + Recipe Included!
Granola Secrets to Power Your Brain, Body and Tastebuds!
Did you know that granola was invented by a doctor more than 150 years ago?
It's true.
In 1863, Dr. James Caleb Jackson, of a prominent health spa in upstate New York, made a cereal from baked graham flour and named it "granula."
Over a decade later, a similar cereal was developed by another doctor, John Harvey Kellogg. When Kellogg also called his cereal recipe granula, Jackson sued. So Kellogg switched the "u" to an "o," and there you have it!
Granola's origins will forever be linked to health.
Granola resurfaced in the 1960s with its more modern iteration of baked oats, nuts, and dried fruit. However, as big manufacturers began formulating granola, they started adding high amounts of sugar, as well as additives, seriously compromising granola's natural, healthful qualities.
Today, the secret to enjoying granola that tastes delicious and powers your brain and body health is to make it yourself.
How to Make Healthy Granola
A healthy granola starts with the right ingredients. That means using whole, nutrient-dense grains, nuts, seeds, dried fruit, healthy oils and spices, and unrefined sweeteners.
Basic granola ingredients include:
One or more whole grains
Nuts and seeds
Dried fruit
Fat/oil
Natural sweetener
Spices
Let's take a look at the most nutritious and tasty ingredient options.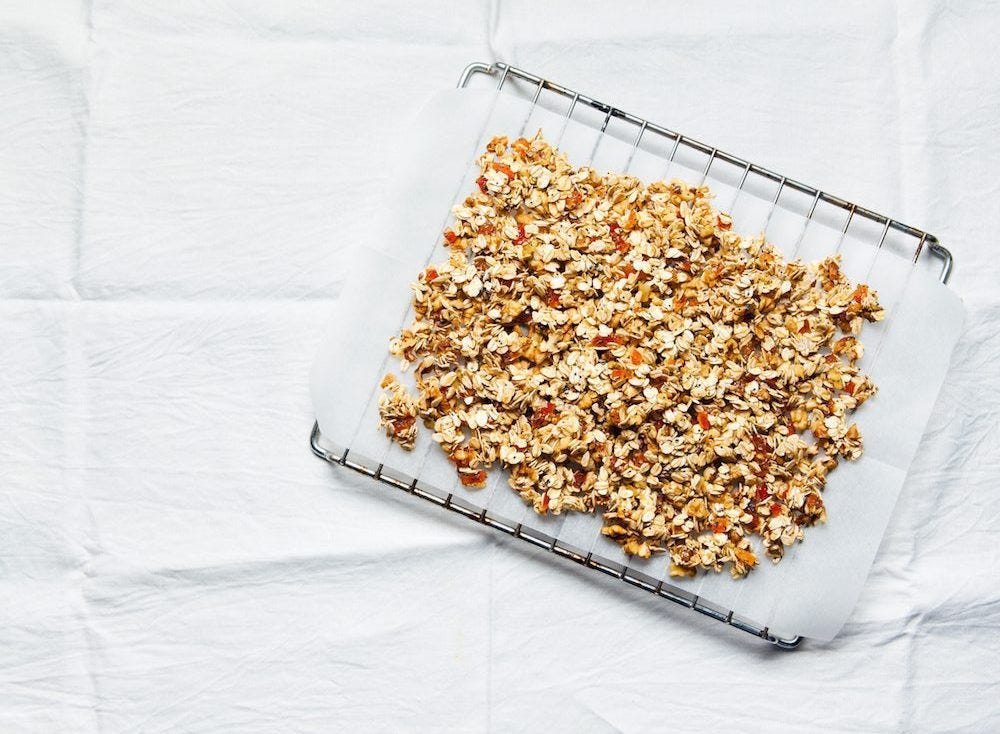 Whole Grains
There are loads of whole grain options to use for your granola, but rolled oats reign supreme for a host of reasons.
First, they have a wonderful texture when baked.
Second, they are a gluten-free treasure trove of macronutrients, vitamins, minerals, fiber, and antioxidants.
Oats are loaded with complex carbohydrates, protein, and fiber, making them ideal for breakfast or a quick snack.
A mineral-rich marvel, oats are a great source of manganese, phosphorous, magnesium, copper, iron, zinc, and folate. Oats also have an array of B vitamins and antioxidants.
Consuming oats helps to promote healthy blood sugar, blood pressure, and cholesterol levels.
No wonder they're the go-to granola grain!
Other whole grains, such as spelt, rye wheat, barley or quinoa, or a combination of these with oats, are also good for your brain and body.
Nuts and Seeds
The nuts and seeds you add to your granola really turn on the brain health factor as they're loaded with healthy fats, protein, fiber, and antioxidants.
Be sure to choose nuts and seeds that are organic and unsalted. Walnuts, almonds, cashews, hazelnuts, and Brazil nuts all make great additions to granola.
Walnuts are exceptional when it comes to supporting brain health. They have a significantly high concentration of DHA, a type of omega-3 fatty acid. Some research suggests that DHA may boost your brain's cognitive performance and help prevent age-related cognitive decline.
Seeds add more complexity to your granola, while offering another nutrition-packed punch.
Seeds are chock-full of many of the same nutrients you find in nuts…healthy fats, protein, fiber, and antioxidants. Pumpkin seeds, ground flaxseed, chia seeds, sesame seeds, and sunflower seeds are fantastic additions to any granola recipe.
Dried Fruits
Dried fruits add a delicious sweetness to granola that makes it complete.
Raisins, coconut flakes, date pieces, dried apricots, and dried apple are very popular. They're also loaded with vitamins and minerals.
Unsweetened dried berries are full of brain-protective antioxidants. A sour or tangy type of dried fruit adds a nice pop of flavor to counter the sweet. Consider dried cranberries or dried cherries.
Whatever dried fruit you decide to use, remember to choose organic, if possible, and with no sugar added. In the case of cranberries, you can find them sweetened with apple juice concentrate.
Sweetener
Most granola recipes call for a sweetener. Avoid refined white sugar or brown sugar as they have few nutrients and spike blood sugar levels.
Unrefined sugars are generally lower on the glycemic index scale – which means they won't spike your blood sugar like table sugar does. Instead, try using maple syrup, coconut sugar, honey, unsulphured molasses, brown rice syrup, or date sugar.
These unrefined sweeteners have nutritive value, antioxidants, and minerals. If you have blood sugar issues or follow a low-sugar diet such as the keto diet, maple-flavored monk fruit is a wonderful option.
Fat/Oil
Coconut oil is a plant-based saturated fat that's believed to have many healthy and potentially brain-boosting properties. It also maintains its integrity at high temperatures making it great for baking granola.
Other healthy oils that work well in granola include olive oil, walnut oil, or avocado oil.
Spice
Vanilla, cinnamon, all spice, and cocoa have beneficial properties for health. For example, cinnamon has been linked to improved memory and healthy blood sugar levels in the body.
Cocoa flavanols may boost brain cognition. They also make granola incredibly delicious.
Though not a spice, dark chocolate (made with low sugar or an unrefined sweetener) can make a granola especially delicious while boosting brain health.
Get Ready to Create
Now that you have the basic healthy ingredients, you're ready to make your own granola.
Try the recipe below and feel free to swap out ingredients as desired. Most homemade granolas, if stored in an airtight container, will last two weeks. If you wish to make a big batch, you can also freeze the granola for later use.
Enjoy!
Homemade Healthy Granola Recipe
Ingredients
3 cups old-fashioned oats
1 ½ cups (walnuts, pecans, almonds)
½ cup seeds (sunflower and chia)
¼ cup unsweetened shredded coconut
1 tsp vanilla extract
½ tsp salt
1 tsp cinnamon
⅓ cup maple syrup
⅓ cup coconut oil melted
⅓ cup dried cranberries (apple juice sweetened) or dried cherries (unsweetened)
Instructions
Preheat oven to 350 degrees F. Line baking sheet with parchment paper.
In a medium-sized bowl, mix oats, nuts, seeds, salt, coconut, cinnamon, vanilla extract, and maple syrup together. Spread out evenly on baking sheet.
Bake for 20-22 minutes.
Take out of oven and let sit for about 30 minutes until cool. Add dried fruit and break apart pieces into clusters.
Eat and/or store.
At BrainMD, we're dedicated to providing the highest purity nutrients to improve your physical health and overall well-being. For more information about our full list of brain healthy supplements, please visit us at BrainMD.

Latest posts by Kim Henderson
(see all)