How to Cook and Bake With Monk Fruit + Recipe!
Do you love the sweetness of sugar but need to be mindful of your blood sugar levels or need to reduce your sugar/carb intake? Well, here's an incredible alternative sweetener to solve your dilemma: monk fruit.
What Is Monk Fruit?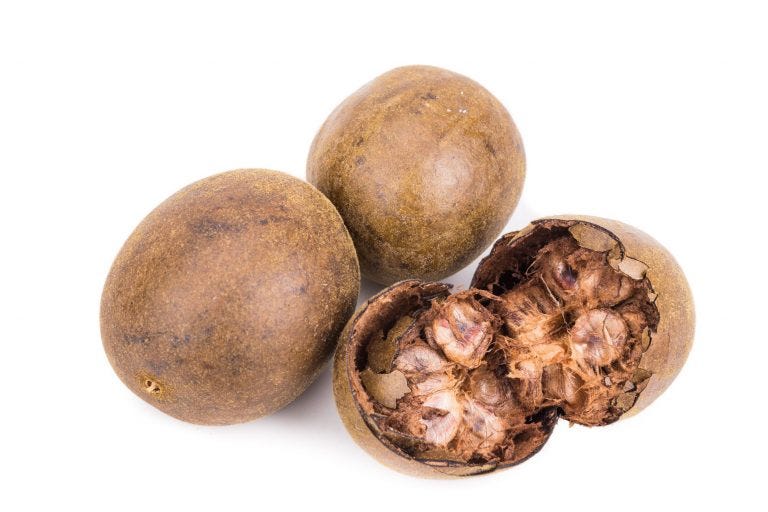 A member of the gourd family (which includes squashes and melons), monk fruit is indeed a fruit. It grows in southern China and northern Thailand and has been used traditionally for centuries in Eastern medicine as a remedy for colds and as a digestive aid. Some 13th century Buddhist monks were the first to cultivate the fruit, which is the reason for its name.
Today, monk fruit is grown mainly to extract its juice for use as a sweetener in both liquid and powder forms. In 2010, it was approved by the FDA here in the U.S.
Remarkably, monk fruit is about 150-200 times sweeter than table sugar, but it isn't absorbed in the upper GI tract. Thus, it has no calories and doesn't raise blood glucose levels like sugar, according to research.
What's more, unlike other non-nutritive sweeteners that can cause gas, bloating, and digestive issues, monk fruit sweeteners have no known side effects and have a much milder aftertaste, if any at all.
You can use monk fruit sweetener just like you would sugar, adding it to beverages, sauces, dressings, smoothies, and cereals, and in your favorite desserts and baked goods. It's compatible with a host of diets such as ketogenic, vegan, candida, paleo, low carb, low sugar, and non-GMO.
While nothing can fully duplicate sugar, monk fruit comes mighty close. Here's what you need to know about this impressive natural sweetener!
About Monk Fruit Sweeteners
In its pure form, monk fruit has an intense sweetness with a mild licorice-like aftertaste. For those reasons, you'll rarely find a sweetener with monk fruit only. Most brands blend it with other natural sweeteners such as erythritol to balance monk fruit's sweetness and round out its taste to more closely resemble that of sugar.
Erythritol is the favored sweetener to use with monk fruit because it doesn't cause digestive issues the way other sugar alcohols do such as xylitol or sorbitol. Both monk fruit and erythritol have anti-inflammatory properties too, whereas artificial sweeteners can be highly inflammatory and disrupt gut microflora.
Baking With Monk Fruit Sweetener
Bakers rejoice! Monk fruit sweeteners are stable at high temperatures, which makes them ideal for cookies, muffins, cakes, and bread.
Yet, learning how to substitute monk fruit for sugar in baked goods is a trial-and-error process. Sugar has its own unique qualities that factor into the volume and texture of your baked goods. When you swap sugar for monk fruit sweetener, your recipes may turn out slightly different in taste and texture.
Here are some helpful tips:
Most monk fruit brands offer a standard dry granulated blend and a liquid monk fruit syrup. Additionally, some brands formulate sweeteners specifically for baking and may even offer a blend that duplicates the taste and feel of brown sugar. Give them a try. They work beautifully!
Sugar can be swapped out with most basic monk fruit/erythritol granulated blends at either a 1:1 ratio or a 2:1 ratio, depending on the brand. Follow the instructions of the brand you buy. As a general rule, you can avoid a granular texture and overdoing it on the sweetness by starting moderately with the 2:1 ratio. Then you can taste it and add more sweetener, if needed, prior to baking.
If you dissolve the monk fruit in the wet ingredients, it also helps to avoid crystallization.
Match liquid and dry uses of sweeteners. If your recipe calls for maple syrup or honey, opt for a monk fruit syrup. If it calls for white sugar, use the basic dry monk fruit sweetener.
If you like to experiment using different types of flours or blends of flours, monk fruit sweetener works exceptionally well with almond, spelt, arrowroot, tapioca, flaxseed, and spelt flours. For a really dry flour like coconut flour, make sure you include plenty of wet ingredients!
Desserts
Powdered monk fruit and monk fruit syrups provide even more options when it comes to desserts.
Powdered monk fruit sweetener has the perfect texture for making sugar-free glazes and frostings, as well as adding visual appeal as a topping on baked goods such a ginger cookies or fudge brownies. Truly, it will be hard to tell the difference from powdered sugar!
Monk fruit syrup is ideal for raw desserts, mousses, and puddings. You can even find maple-flavored monk fruit sweetener. It tastes remarkably more like conventional sugary maple syrup than real maple syrup. It's ideal for waffles and pancakes and should please the kiddos.
Beverages, Dressings, Cereals, and Sauces
Look for monk fruit sweetener packets to carry with you. When you're on the go, you can sweeten your hot drinks or iced beverages with it. Start with half a packet and add more as needed.
To offer balance to salad dressings, you can include either the liquid or powder to add a note of sweetness. They work really well in marinara and other sauces, as well.
Don't forget to try them on your morning cereal. If you like making overnight oats with chia seeds and plant-based milk, monk fruit sweetener is perfect!
Safe Sweetness
Without the excess calories or blood sugar spikes of regular sugar, monk fruit sweetener appears to offer a measured way (pun intended) to enjoy a little bit of life's sweetness. That said, experts suggest enjoying it moderately.
Vegan Soft n' Chewy Oatmeal Raisin Cookies
INGREDIENTS
6 tablespoons ground flaxseed meal, divided
1/2 cup water
1 cup oat flour
1/2 cup almond flour
1/2 cup rolled oats
1/4 cup unsweetened shredded coconut
1/4 cup regular monk fruit sweetener (white sugar substitute)
1/4 cup golden monk fruit sweetener (a brown sugar substitute)
1/2 teaspoon baking soda
1 tablespoon ground cinnamon
1 teaspoon of allspice
1/2 cup raisins
1/4 cup chopped walnuts
1/4 cup unsweetened plant milk of your choice
1/4 cup virgin coconut oil (or avocado oil)
1 teaspoon pure vanilla extract
INSTRUCTIONS
Preheat the oven to 350 degrees.
In a medium bowl, mix 2 tablespoons ground flaxseed with 1/2 cup water. Set aside.
In a separate medium bowl, whisk together the remaining 4 tablespoons ground flaxseed meal, oat flour, almond flour, rolled oats, monk fruit sweeteners, baking soda, cinnamon, and allspice. Stir in the raisins and chopped walnuts.
To the flaxseed and water mixture, add the plant-based milk, coconut oil, and vanilla extract. Whisk to combine.
Combine and mix the wet ingredients to the dry ingredients.
Use a cookie scoop or tablespoon to drop onto a greased baking sheet. Flatten slightly.
Bake in the preheated oven for 12 minutes.
Allow to cool for five minutes on the tray before transferring to a baking rack to cool completely.
Enjoy!
At BrainMD, we're dedicated to providing the highest purity nutrients to improve your physical health and overall well-being. For more information about our full list of brain healthy supplements, please visit us at BrainMD.

Latest posts by Kim Henderson
(see all)