Introducing the Brain Boost Bar: Plant-Based Protein With MCT Oil for Energy!

Medically Reviewed by Dr. Nicole Avena
Do you ever get a snack attack?
You're not alone. Millions of Americans struggle with the inter-meal munchies every day.
To curb their hunger and tide them over until their next meal, many reach for an unhealthy snack. Snickers may satisfy (at least for the moment), but the high sugar content, among many other unhealthy ingredients, can lead to an energy crash.
Unfortunately, these sugar-laden, fat-filled treats provide a quick high that's soon followed by a precipitous drop in mood and energy. To avoid the quick fix of consuming junk food and energy drinks, which only provide a temporary boost in energy, reach for a healthy snack.
Healthy Snacks
Healthy snacks can be a key factor in supporting your ability to stick to a healthy food plan. Eating the right kind of snack between balanced meals can help you maintain a healthy weight and resist the urge to grab sugary or salty foods.
Healthy snacks can help:
Keep your blood sugar stable
Curb the urge to overeat
Rev up your metabolism
Provide the fuel you need to feel alert and focused throughout the day
Healthy snacks can help fight mid-morning fatigue, mid-afternoon carb craving, and midnight grazing – all common culprits in weight gain. One of the keys to achieving and maintaining a healthy weight is to know what kinds of snacks are best for you.
Best Plant-Based Protein Bar With MCT Oil to Energize Your Day
If you're looking for a gluten-free, high fiber, plant-powered protein bar, BrainMD is proud to offer…
If you're looking for a gluten-free, high fiber, plant-powered protein bar, BrainMD is proud to offer…
BRAIN BOOST PLANT-POWERED PROTEIN BARS
Fuel your brain and body with 12 grams of delicious, plant-based protein, nutrient-rich cocoa, and 11 grams of healthy prebiotic fibers.
Finally…A Healthy Snack Bar!
Most protein bars on the market are loaded with added sugars. They're essentially candy bars.
Not ours!
Brain Boost Plant-Powered Protein Bars contain no added sugar, plant-based protein, and fiber to help satisfy your hunger. These dark chocolate almond bars were developed by Dr. Daniel G. Amen, who also helped create BrainMD's two decadent, brain-healthy chocolate bars: Brain in Love and Brain on Joy.
Here are just a few of the many benefits of Brain Boost Bars:
plant-based protein to help build muscle*
prebiotic fibers to aid in digestion and a healthy microbiome*
polyphenols to help circulation and blood flow to the brain*
Brain Boost Bars are sweetened with allulose, stevia and monk fruit. These bars also contain cocoa, almonds and MCT oil, which add antioxidants and polyphenols to support brain health.
BRAIN BOOST BARS INGREDIENTS
Here are just some of the natural ingredients in Brain Boost Bars:
Almond butter
Protein blend (pea protein, brown rice protein, pumpkin protein)
Inulin
Chocolate chips (cocoa beans, allulose, sunflower lecithin)
Almonds
Cocoa butter
MCT oil powder
Sea salt
Stevia extract
Monk fruit extract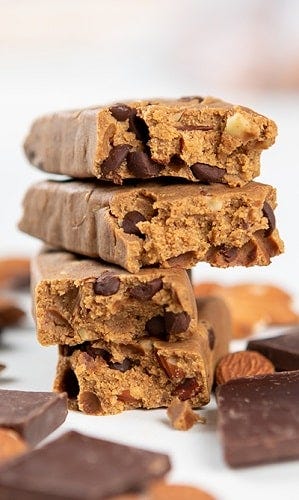 Who can benefit from Brain Boost Bars?
Anyone interested in adding more protein, nutrients, and brain-supporting polyphenols to their diet. Brain Boost Bars are the perfect, healthy snack to add to your wellness routine.
How do I take Brain Boost Bars?
Brain Boost Bars come in convenient single servings. At only 200 calories, they're the perfect snack to have on hand if you're looking to optimize your nutrition.
Do Brain Boost Bars contain added sugars?
No. Brain Boost Bars are sweetened with natural sources like allulose, stevia, and monk fruit.
What type of protein is in Brain Boost Bars?
Brain Boost Bars contain a protein blend of pea protein, brown rice protein, and pumpkin protein. They also contain almonds and almond butter, which add protein and antioxidants.
Do Brain Boost Bars contain allergens?
Brain Boost Bars contain almonds and are produced in a facility that processes peanuts, soy, tree nuts, milk, wheat, and sesame. These bars are naturally free of egg, yeast, dairy, gluten, sugar, soy, and artificial colorings/flavorings.
What other products complement or enhance the effectiveness of this bar?
This product is supported by some of BrainMD's other functional foods, including OMNI Protein (Chocolate and Vanilla), our plant-based protein powder that supports mental focus, muscle energy, exercise and stress recovery, and Neuro Greens Superfood, our scientifically designed greens powder that features a diversity of superfoods (multi-colored fruits, vegetables, algae, mushrooms, and fiber) proven to benefit the brain, immune system, and entire body.
Healthy Energy
Brain Boost Bars are scientifically developed to be a quality protein source for everyday life. With essential amino acids and other ingredients that fulfill the nutritional components of a healthy diet, adding Brain Boost Bars into your daily snack routine can benefit not only your brain, but your entire body.
The next time you feel yourself dragging at work, during a study session, or just as you're going about your daily routine, drop your coffee or energy drink, toss your sugary snacks, and grab a Brain Boost Bar.
Healthy energy is just a bite away!
At BrainMD, we're dedicated to providing the highest purity nutrients to improve your physical health and overall well-being. For more information about Brain Boost Plant-Powered Protein Bars and our full list of brain healthy supplements, please visit us at BrainMD.
*These statements have not been evaluated by the FDA. This content is for informational purposes only. It is not meant to substitute for medical or healthcare advice from a physician, nor is it intended to diagnose, treat, cure, or prevent any disease. Consult your healthcare provider before beginning a new health regimen.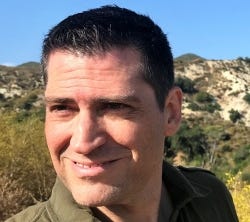 Latest posts by Keith Rowe
(see all)