What Are the Signs of Magnesium Deficiency?

Medically Reviewed by Dr. Parris Kidd
Do you get enough magnesium?
If not, you should. There's a reason why this powerful, versatile mineral is referred to as "essential."
What is Magnesium?
Magnesium is a mineral nutrient that's crucial for our health and survival. It's required by a wide variety of our enzymes and other functional proteins, including practically all the 300 energy-related enzymes that our cells depend on to make and use energy. This powerful nutrient is vital for the brain to think, for the heart to beat, and for practically all the body's functions.
Nutrient for Healthy Aging
Magnesium is vital to the functioning of our 30 trillion cells. All of them require magnesium to generate the energy they need.
They must have magnesium to maintain their DNA and gene structure, even to hold together the telomeres, "shoelace" structures at the end of each chromosome that are believed to be biomarkers of aging. Our cells also need magnesium to make all their proteins.
Over the past several decades this mineral has been declining in our food supply. It also can be depleted by poor digestive function or by medications including some that are sold over the counter. These can be signs of low magnesium.
Getting sufficient magnesium by taking a well-designed supplement can make a real difference in the quality of life for aging individuals who are losing their digestive efficiency.
Total Brain Support
Magnesium is vital for brain activity. Besides being essential for all the body's fundamental functions, it is fundamentally important for the electrical activity of the brain's nerve cells.
Their trillions of electrical connections are activated by calcium and regulated by magnesium. Having sufficient amounts of magnesium in the brain helps ensure against harmful electrical overactivity.
Magnesium is crucial for the brain's ability to process information and for memory, learning, and overall mental alertness. It promotes calmness under stress and encourages a relaxed state of mind, and a positive attitude.
Heart and Circulatory Support
Magnesium is crucial for the heart to maintain a healthy rhythm of pumping, which is initiated by calcium's entry into its muscle fibers but must be regulated by magnesium. It's also crucial for maintaining blood vessel tone – their capacity to contract or relax for optimal blood flow throughout the body. By balancing calcium, magnesium also promotes healthy blood pressure.
Known as "the relaxation mineral," magnesium plays an important role in heart health, regulation of adrenaline, muscle relaxation, and overall sleep quality. Mentally, magnesium promotes a calm, balanced, and mentally focused demeanor.
Overall, this key mineral nutrient helps promote physical and mental well-being.
Fortify Your Defenses
Magnesium helps sustain healthy immune defense and inflammatory balance. Insufficiency or deficiency of magnesium has been linked to the elevation of CRP (C-reactive protein), which suggests increased inflammatory activity in the body. Magnesium also protects against calcium overactivity which has been linked to abdominal pain, kidney stones, and heart problems.
Workout Relief
Magnesium is required to help balance calcium in all our muscles: the skeletal ("voluntary") muscles (legs, arms, back, facial) as well as the involuntary muscles (digestive system, other internal organs). Having sufficient magnesium helps renew and manage all these muscles during sleep. Magnesium insufficiency is linked to risk of muscle cramps or spasms.
Sweating during workouts and sports activities depletes magnesium, so taking a supplement afterwards (or even before) makes sense if you want a productive workout. It also helps prevent the muscles from spasming after intense exercise.
Healthy Pregnancy
Magnesium is essential for a healthy pregnancy outcome. Pregnant and lactating women require adequate magnesium both for the baby's development and to maintain their own health. From birth across the lifespan, magnesium is needed for a healthy brain and cardiovascular system, for building bones, for muscle strength, and for all the organs.
What Are The Signs of Low Magnesium?
The U.S. Government's Centers for Disease Control and Prevention (CDC) conducts ongoing, in-depth surveys of the health and nutritional habits of Americans. Their most current data indicate that well over half of all Americans aren't getting enough magnesium from their foods.
Sadly, due to the Standard American Diet (SAD), magnesium is one of the minerals we typically don't get enough of in the foods we eat. Some leafy-green vegetables, whole grains, nuts, and beans are good magnesium foods, but dietary intake has declined by at least 40% in recent decades due to changes in food harvesting and processing, water purification, and overall dietary habits.
Clinical evidence links low magnesium intakes to brain, heart, circulatory, bone, and joint problems. Individuals with intestinal or kidney problems, people who drink alcohol, those with poor blood sugar control, and the elderly are all more likely to be magnesium deficient. One of the first signs of low magnesium is irritability.
The standard blood test for magnesium has limited usefulness because that number may not fall until the body is seriously, functionally affected. Testing for magnesium inside your cells, via the red blood cell magnesium test, is a more sensitive indicator of your magnesium status. This test may reveal signs of low magnesium and is available from major diagnostic labs.
Since most people aren't getting enough magnesium from diet alone, they need something to help fill the nutritional gap. Taking a well-formulated magnesium supplement can assist the brain and body in numerous ways.
BrainMD is proud to offer Magnesium Chewables…
Magnesium Chewables
BrainMD's Magnesium Chewables contain three magnesium compounds that are well absorbed and utilized by the body. All three – magnesium citrate, magnesium malate, and magnesium glycinate – provide magnesium atoms in the positively charged ionic form.
Unlike the magnesium oxide often used in cheap supplements, this is pre-activated magnesium ready for use by the brain and other organs.
Magnesium Chewables have a delicious citrus flavor. Each tablet provides a considerable 150 milligrams of magnesium. We recommend chewing one tablet at a time and washing it down with water.
These chewable tablets are free of sugar, dairy, gluten, corn, egg, yeast, or other allergens, with no artificial colorings or flavorings.
Magnesium Chewables are well-tolerated, safe to take long-term, and are suitable for vegans and people of all ages.
What Others Are Saying About Magnesium Chewables
So helpful!

"I have been taking these daily for a few months now. Feel they help with my anxiety and sleep." – Traci L.
Yummy taste and sleeping great!

"We chew one tablet every evening and our sleep quality has improved. The tablets are a tasty citrus flavor." – Robyn E.
If you, or someone you know, is exhibiting signs of low magnesium, try Magnesium Chewables today!
At BrainMD, we're dedicated to providing the highest purity nutrients to improve your physical health and overall well-being. For more information about Magnesium Chewables and our full list of brain healthy supplements, please visit us at BrainMD.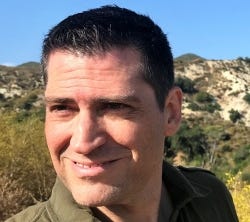 Latest posts by Keith Rowe
(see all)