Change Your Brain Everyday: How Dr. Amen's Book Can Help Improve Your Mental Health
Are you looking for simple daily practices to strengthen your mind, memory, mood, focus, energy, habits, and relationships?
We've got the book for you!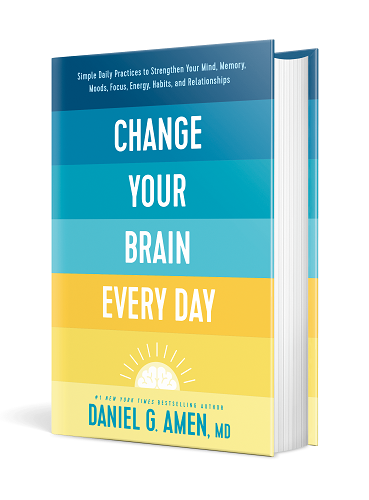 Change Your Brain Every Day
In Change Your Brain Every Day, psychiatrist and clinical neuroscientist Daniel Amen, MD, draws on over 40 years of clinical practice overseeing the treatment of tens of thousands of patients to give you the most effective daily habits that can help improve your brain, master your mind, boost your memory, and make you feel happier, healthier, and more connected to those you love.
Incorporating Dr. Amen's recommended habits and practices over the course of a year can help you:
Manage your mind to support your happiness, inner peace, and success
Develop lifelong strategies for dealing with whatever stresses come your way
Create an ongoing sense of meaning and purpose in a way that informs your daily actions
Learn the major life lessons Dr. Amen has gleaned from studying hundreds of thousands of brain scans
366 Days to a Better Brain
Each day's reading spotlights a specific subject culled from a broad array of health and wellness topics. The 366 days (including Leap Year) are broken down into several focused sections.
Some of the section topics are:
Building Brain Skills
Relationships and the Brain
Practical Neuroscience
Nutrition
Eliminating Bad Habits
The Chemicals of Happiness
Each day's reading comes with a "Today's Practice" application; a thought, question, or challenge to help you dig deeper and get more from what you've read that day. You'll find daily insight, introspection, and inspiration on every page.
Sample Entry
Day 206
Remember the 18-40-60 Rule
Stop caring about what other people think of you, because they are mostly not thinking about you at all. I teach all of my patients the 18-40-60 rule: When you're 18 you worry about what everyone else is thinking of you; when you're 40 you don't care what anyone else is thinking about you; and when you're 60, you realize no one has been thinking about you at all. People spend their days worrying and thinking about themselves, not you.
"With age, you figure out that life is too short to waste time thinking about what other people think about you." That's what Grammy Award-winning superstar Christina Aguilera told Health magazine about turning 40. She's not alone. A 2021 survey of 2,000 older adults found that 72 percent of them felt more content and more comfortable in their own skin when they hit their forties and stopped worrying about what other people think of them. These people may not be aware of it, but they're prime examples of the most life-changing rule you never learned.
This single piece of insight into human nature is so powerful that it can literally change your life by reducing negativity, anxiety, and worry and increasing self-esteem, joy, and overall happiness. It's a shame it isn't taught in schools. Think how much happier and less stressed you might have been if you had known this earlier.
TODAY'S PRACTICE: When you find yourself worrying about what others think of you, remind yourself that they are thinking about themselves, not you.
A Word from Dr. Amen
"Your brain controls everything you do and everything you are. Each day it is changing. Either it is getting better and growing younger, or it is getting worse and growing older due to your daily diet, supplements, thoughts, decisions, and habits.
This daily reader is designed to help you be the master of your brain's destiny and boost your memory, mood, focus, and overall sense of happiness and peace. Learning to love and care for your brain will also decrease your stress, improve your relationships, increase your chances of success in every area of life, help you stave off dementia, and prevent you from becoming a burden to those you love."
What Others Are Saying About Change Your Brain Every Day
Want to think smarter, feel happier, have better focus, and remember more? The neuroscience-backed strategies to make that happen are all within the pages of Dr. Amen's new book Change Your Brain Every Day." -Uma Naidoo, MD, Harvard nutritional psychiatrist and international bestselling author of This Is Your Brain on Food.
Change Your Brain Every Day is like getting a daily dose of Dr. Amen to enhance your memory, mood, and mindset." -Jim Kwik, New York Times bestselling author of Limitless: Upgrade Your Brain, Learn Anything Faster, and Unlock Your Exceptional Life.
Change Your Brain…Today!
Imagine what you could learn while meeting with a psychiatrist every day for a year. In the pages of Change Your Brain Every Day, you'll get a year's worth of life-changing daily wisdom from Dr. Amen, one of the world's most influential psychiatrists.
Practicing the practical principles in Change Your Brain Every Day can help support your brain, manage your thoughts, sharpen your memory, and help you feel happier and healthier.
Today is the day to start changing the trajectory of your life, one step at a time.
Buy Change Your Brain Every Day today!
About the Author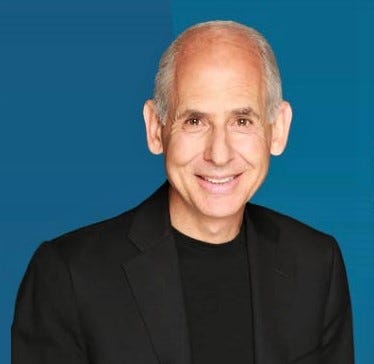 Daniel G. Amen, MD, has helped millions of people change their brains and lives. He is the founder of Amen Clinics with 11 locations across the United States, an 18-time national bestselling author, and the creator of online videos about the brain and mental health that have been viewed over 300 million times.
He has written and produced 17 national public television specials about the brain that have aired more than 140,000 times across North America. Dr. Amen believes we can end mental illness by creating a revolution in brain health, and he regularly speaks to businesses, organizations, and churches about how to have a better brain and a better life.
For more about Dr. Amen's other books, and our full catalog of brain healthy supplements that can boost focus, energy, and memory, please visit us at BrainMD.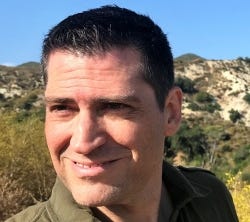 Latest posts by Keith Rowe
(see all)