4 Simple & Healthy Mushroom Recipes to Try Today
In part one, nutritionist Zoe Davis took a deep dive into the science, health benefits, and sample uses of the six superfood mushrooms found in BrainMD's Smart Mushrooms. In this article, Zoe gives preparation tips for how to use these immune-boosting mushrooms in delicious foods and beverages.
Below are some healthy mushroom recipes to try with the six mushroom varieties available in concentrated form in Smart Mushrooms. If you aren't a huge fan of the texture of mushrooms you find in these recipes, you might try cutting them up into super small pieces to use in a veggie sauté so that they blend in more with the other flavors you prefer, or puree them in soups with strong flavors like garlic, ginger, or peppers. I've gotten away with "hiding" mushrooms many times this way with my family.
4 Simple & Healthy Mushroom Recipes to Try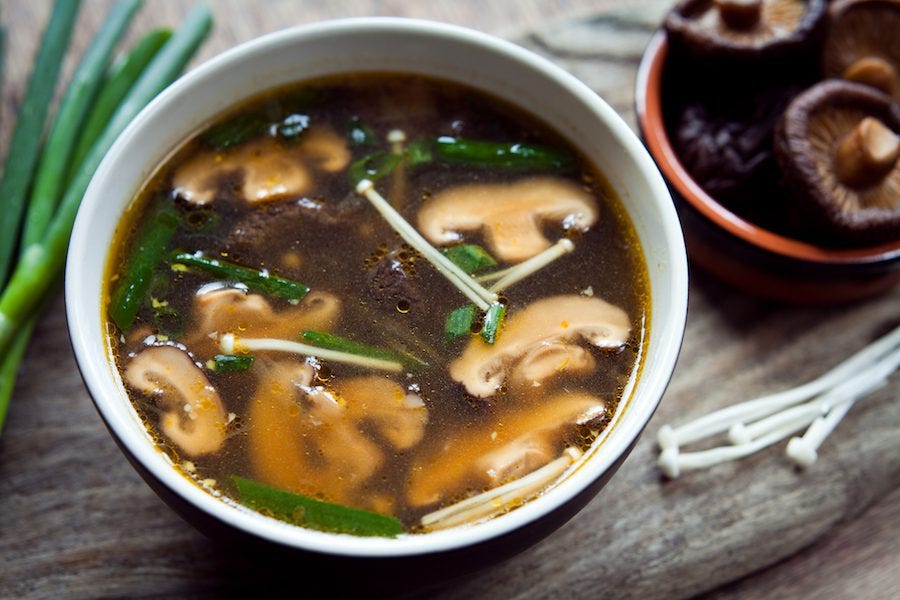 Thai Chicken & Shiitake Mushroom Soup
Ingredients
1 ½ tsps Coconut Oil
1 Garlic (clove, minced)
1 tsp Ginger (minced)
3 cups Organic Chicken Broth
1 TB Coconut Aminos
¼ oz Lemongrass (peeled, chopped into large pieces)
8 ozs Organic, Pasture-raised Chicken Breast (skinless, boneless, chopped into cubes)
1 ½ cups Shiitake Mushrooms (sliced)
1 cup Organic Coconut Milk (canned)
1 TB Lime Juice
¼ cup Thai Basil (chopped)
How to Cook:
In a pot over medium heat, add the coconut oil, garlic, and ginger. Sauté for 1 minute. Then add the broth, coconut aminos and lemongrass. Bring to a simmer, reduce heat to medium-low and cook for 15 to 20 minutes.
Add the chicken and mushrooms and cook for 10 minutes or until the chicken is cooked through. Remove from heat. Remove the lemongrass stalks and discard. Add the coconut milk and lime juice. Stir to combine.
Divide into bowls and garnish with basil. Enjoy!
Hibiscus & Reishi Tea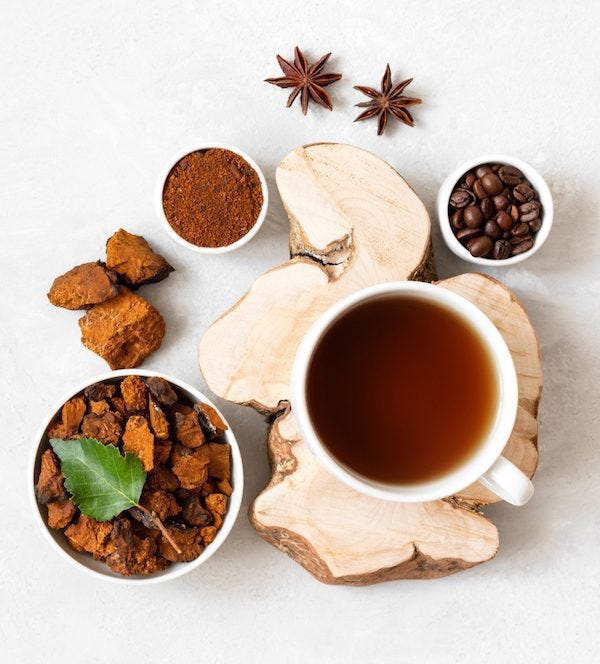 Ingredients
3 cups Water
1 TB Hibiscus Tea (loose leaf or bagged)
⅟16 oz Reishi-containing Smart Mushrooms powder
¼ cup Mint Leaves (optional but delicious!)
How to Prepare:
Bring the water to a boil and steep the hibiscus tea for about 10 minutes.
Mix in the Super Mushrooms powder, if using, and stir vigorously to combine. Add the tea to a pitcher and refrigerate until cold.
Divide the ice cubes between glasses and pour the chilled tea overtop. Garnish with mint, if desired. Enjoy!
Lion's Mane Roast
Ingredients
12 ozs of Lion's Mane Mushroom, slice to desired thickness
2 TB Avocado Oil
6 large Shallots or small Yellow Onions (sliced)
½ tsp Sea Salt
¼ tsp ground Black Pepper
1 TB Miyokos Coconut/Cashew Butter or ½ TB Ghee
⅓ cup Veggie Broth
1 TB Apple Cider Vinegar
1 TB fresh Thyme Leaves
How to Prepare:
Preheat oven to 425 degrees (may vary depending on oven)
Heat 1 TB of avocado in pan at medium heat, coating pan evenly.
Add in onions or shallots, thyme, and a pinch of salt, stirring regularly.
After 5 minutes, add in veggie broth, cover pan and reduce heat.
Simmer for 10-12 minutes or until onions/shallots are tender.
Add apple cider vinegar and pepper. Stir thoroughly.
Remove from direct heat, but keep covered.
Heat a large skillet over medium-high heat. Once hot, add 1 TB avocado oil, coating whole pan.
Add in mushrooms with the fuzzier side down. Cook 3-5 minutes or until light brown, then turn over to repeat. Top each with a small piece of Miyoko's coconut/cashew butter or drop/flick of ghee.
Immediately put pan in oven and bake for 5-7 minutes or until tender when putting a fork through them. Remove from oven.
To serve, scoop a spoonful of the onion/shallot mixture onto a plate (this recipe serves 4), then add a few mushrooms to the top of the onions. You can sprinkle with fresh herbs of choice such as rosemary or chives if desired.
Agaricus Blazei Tea or Soup
Ingredients
Dried Agaricus Blazei
Hot Water
How to Prepare:
Bring pot of water to boil
Soak dried agaricus blazei in hot water for at least 30 minutes or to desired strength.
Discard the mushroom and drink the broth as is, or use in soups with chicken, beans, or vegetables like kale, other forms of mushrooms, onion, etc. Spice with fresh ginger, garlic, or other fresh herbs as desired.
Reishi and Turkey Tail
These forms are not commonly eaten due to super-fibrous nature, but can be steeped in hot water for tea, or used in powdered form in beverages and smoothies as in Smart Mushrooms.
Smart Mushrooms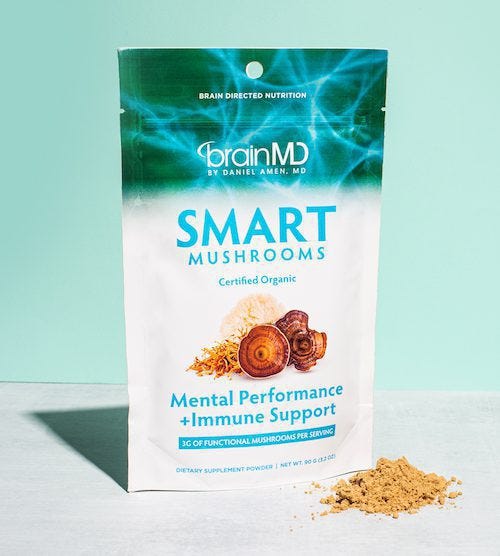 Smart Mushrooms is firmly grounded in the most recent clinical and scientific research on medicinal mushrooms. All six mushrooms are highly nutritious, and together they offer a broad spectrum of health benefits. These can be added to any recipe!
Benefits of Smart Mushrooms
The mushrooms in this formula are high in protein and fiber, low in calories and sodium, and contribute many vitamins and minerals to the diet. They include glucans, unique fibers that can enhance immunity, provide antioxidant benefits, and promote healthy gut microbial balance.
The Smart Choice
Smart Mushrooms offers substantial promise for improving memory, mood, and other cognitive functions. These six mushrooms are functional foods that can help increase energy, wellness, and high-level brain performance.
It's the smart choice for immune and whole-body support.

Latest posts by Zoe Davis
(see all)