5 Powerful Benefits of Having a Healthy Daily Routine
Routines can be incredibly grounding. They can root us into our lives by providing just enough structure to shape our days and nights, while allowing us freedom to work toward our goals and find meaningful pursuits.
Who knew that simply getting up at the same time every day, brushing your teeth, getting dressed, and making your bed would be the secret for how to regulate your mood and maintain well-being?
Here are some of the benefits of establishing a healthy daily routine, as well as some suggestions on how to do it!
Benefits of Daily Routines
Establishing healthy routines is chock-full of benefits including the following:
Increases Efficiency
When you have an established routine, it takes care of multiple decisions. For example, there's no question about what you need to do when you wake up in the morning. You already know the routine.
This is very important because too many decisions can drain your energy. A recent American Medical Association article calls this phenomenon "decision fatigue," which is the mental and emotional exhaustion you may experience after making thousands of decisions. Decision fatigue can lead to procrastination, impulsivity, avoidance, and indecision.
On average, we make about 35,000 decisions every day – eliminating what decision-making we can with routine helps us to be more efficient!
Reduces Stress/Promotes Health 
All the decision-making throughout your day can be really stressful. When you have a routine established, it eliminates a lot of stress. Stress hormones aren't good for your brain or body. Plus, what you include in your routine can help counter stress and boost your happiness.
For example, your routine may be to get up early and meditate and/or exercise. That time for yourself will allow you to face the stresses of the day with more equanimity and make better decisions.
Boosts Creativity
Though following a routine sounds like it might kill creativity, research shows the opposite to be true. One study examined how, in a corporate environment, having regular, routine work processes implemented for more mundane tasks helped employees conserve their cognitive energies for creative problem solving on other projects.
Influential artists often have well-defined work routines, which allow their creativity to flourish –unlocking it, rather than constraining it!
Provides Meaning
Research has found a positive relationship between people who have routines and finding fulfillment or meaning in life. Managing our time well through our individual routines appears to promote well-being. One study examining routines and life meaning concluded that "life is not only made meaningful through extraordinary experiences but also in its daily living."
5 Simple Tips to Build a Healthy Routine
Stay regulated, healthy, and happy with these routine-building tips!
Make Health Your Foundation
Make health the foundation of your daily routine and start with the basics: diet, exercise, and sleep. If you feel off or dysregulated, returning to these basics will help you to feel grounded again.
Diet – Allot time for food shopping each week, as well as healthy snack and meal prep, and time to sit down and nourish yourself with breakfast, lunch, and dinner. Also, always have healthy snack options available in your home, car, and at the office.
Exercise – Schedule time for regular exercise that you actually enjoy and will do. Exercise can increase blood flow to the brain, boost your mood, and improve sleep, to name just a few benefits. It can be social and fun too.
Sleep – Stick to a regular bedtime and wake time that provides you with plenty of rest. Adequate sleep is essential to brain function, immune health, mood, appetite, libido, and more.
Take It Slow
Add one new habit into your routine at a time. If you try to add too many things all at once, you'll likely abandon your efforts and be back at square one.
Think about the person you wish to become or acquiring habits that reflect your values. Replace one unhealthy habit you want to let go of with one of these new habits until it becomes routine.
For example, perhaps you want to start your day with calm. Instead of habitually waking up and checking your phone immediately, try a new habit. Instead, go outside or look outside at a tree or the sky, take in a few deep breaths, and do some stretches.
Plan Ahead and Organize
Consider making planning ahead and organization part of your routine. Add these new organizational habits (if they work for you) into your routine.
For example, end your day by preparing for the following day. Have your keys and bag/brief case out and ready, prepare your lunch, tidy up, and select your clothes. Make your "tomorrow" turn-key ready so that you can slip into your day like a duck to water.
Include Fun and Enjoyment
A routine must include pleasure and joy every day. It can be simple and easy.
Take a 15-minute walk outside
Listen to a piece of music you love
Add in weekly and monthly activities
Take a weekly yoga or dance class, or maybe a singing or guitar lesson
Once a month, see a live performance, get a massage, or go for a hike at a new area.
Eat a Healthy Snack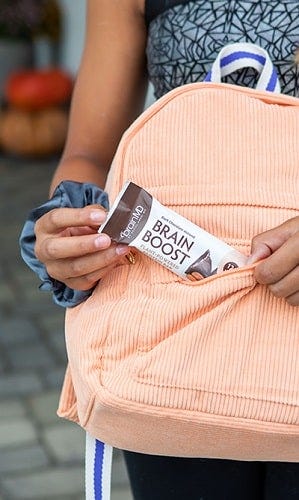 A healthy, on-the-run snack, such as protein bar, can add to a healthy routine.
Here's why BrainMD's new Brain Boost Plant-Powered Protein Bar is the perfect healthy snack to keep on hand:
It's delicious, made with chocolate and almonds, and only healthy ingredients.
It's loaded with 12 grams of healthy plant-based protein. The protein fuels your brain, helps build muscle, and helps to keep blood sugar levels stable.*
It's made with polyphenol-rich dark chocolate, which helps support healthy circulation and blood flow to the brain.*
It's sweetened naturally with allulose, stevia, and monk fruit, which don't spike blood sugar levels.*
It contains prebiotic fiber, which aids digestion and supports a healthy microbiome.*
It's balanced with healthy fats to help provide satiety.*
Structure with Freedom
Regulating yourself with a routine that supports your health may seem mundane, but it's actually the secret to a happy and purposeful life. Remember to wear it loosely though. No one follows their routine perfectly, and sometimes purposely breaking from your routine can be a good thing.
Here's to creating routines that provide both structure and freedom for a happy, healthy life!
At BrainMD, we're dedicated to providing the highest purity nutrients to improve your physical health and overall well-being. For more information about Brain Boost Plant-Powered Protein Bars and our full list of brain healthy supplements, please visit us at BrainMD.
*These statements have not been evaluated by the FDA. This content is for informational purposes only. It is not meant to substitute for medical or healthcare advice from a physician, nor is it intended to diagnose, treat, cure, or prevent any disease. Consult your healthcare provider before beginning a new health regimen.

Latest posts by Kim Henderson
(see all)