Dark Chocolate Fondue Recipe: Made with Brain Boosting Ingredients!
Dark Chocolate Fondue Recipe: Made with Brain Boosting Ingredients!
By now, you've probably heard that consuming small amounts of dark chocolate can offer health benefits. Multiple studies have shown that chocolate, in its natural form, may increase blood flow to the brain, reduce blood pressure, improve cardiovascular function, and in some instances, even quell stress responses.
Unfortunately, most of the chocolate lining the shelves of your local supermarket won't give you the same kind of health benefits. In fact, most commercial chocolate bars are heavily processed, loaded with artificial chemicals, and filled with unhealthy ingredients like refined sugar, dairy, milk solids, butterfat, and synthetic flavors. So, while unprocessed chocolate, or raw cacao/cocoa, is inherently nutritious, most commercialized varieties are not.
Dark Chocolate vs. Milk Chocolate
Since many of the health benefits associated with chocolate come from flavanols, the main type of flavonoid found in cocoa, the more chocolate is processed (through things like fermentation, alkalizing, roasting, etc.), the more it loses the qualities that make it healthy in the first place.
Considering that dark chocolate is typically less processed and contains a minimum of 35 percent cocoa, it keeps more of its health benefits than milk chocolate, which normally contains less than 10 percent cocoa.
The Healthiest Type of Chocolate
When it comes to which type of chocolate is the healthiest, dark chocolate reigns supreme. Dark chocolate varieties contain higher amounts of cocoa – usually 60 to 80 percent.
Benefits of Dark Chocolate:
Loaded with flavonoids and other polyphenols
May help improve blood flow to the heart and brain
Supports vascular function
High in fiber
Substantial source of vitamins B1, B2, B3, B6, E, and K
Filled with a variety of antioxidants
Rich in essential minerals including magnesium, iron, zinc, potassium, and phosphorus
Beneficial for circulation in the body
A good source of N-acylethanolamines, which can stimulate the brain's built-in cannabinoid receptors to help neutralize negative thoughts and feelings
How to Shop for Healthy Dark Chocolate
Looking for a healthy dark chocolate bar? Doctors and nutritionists recommend choosing varieties that contain more than 60 percent cocoa, have a low natural sugar content and short ingredient list with no dairy, refined sugars, unhealthy fats or synthetic flavors.
At BrainMD, we recommend Dr. Amen's Brain in Love Chocolate Bars. Packed with heart-healthy, brain-boosting ingredients and 9 grams of fiber, this ethically sourced, sugar-free treat is great for the entire family.
With Valentine's Day right around the corner, try Brain in Love Chocolate Fondue. It's the guilt-free way to satisfy your chocolate cravings and sweeten your Valentine's Day celebrations.
Fondue Without the Fuss
Typical chocolate fondue recipes are packed with sugary chocolate, whole milk, and unsalted butter. Here's a simple recipe that's completely vegan, keto-friendly, refined sugar-free, and requires just three ingredients – unsweetened almond milk, pure vanilla extract, and heart-healthy dark chocolate.
Brain in Love Chocolate Fondue Recipe

Serves 3-5 people
Ingredients:
5 bars of Brain in Love chocolate, chopped
1/3 cup unsweetened almond milk
1/4 tsp vanilla extract (optional)
Recipe Instructions:
Using a cutting board and sharp knife, carefully chop 5 bars of Brain in Love chocolate into small pieces.
Combine the chopped chocolate pieces, unsweetened almond milk, and vanilla extract in a heavy-bottomed saucepan. Set the pan over low heat and gently stir until melted. Mix regularly to prevent burning.
When the chocolate is completely melted and glossy, taste test for texture. If you'd like your fondue thinner, add a few tablespoons of non-dairy milk until you've reached your desired consistency.
Once desired consistency is reached, transfer into a dry serving bowl or fondue fountain.
Serve chocolate fondue warm with your favorite dippers. We suggest fresh fruit (berries, pineapple, banana slices, apple slices, etc.), or raw unsalted nuts for an added crunch.
Recipe Notes:
Chocolate and water don't mix! If your melting dish or serving bowl has water on it, it can cause your chocolate to seize and turn grainy. Make sure everything is clean and dry before starting.
Looking for more brain-boosting chocolate recipes? Try these delicious No-Bake Mocha Chocolate Protein Bars or a Chocolate Berry Protein Shake.
At BrainMD, we're dedicated to providing the highest purity nutrients to support your brain health and overall well-being. For more information about our full list of supplements, please visit us at BrainMD.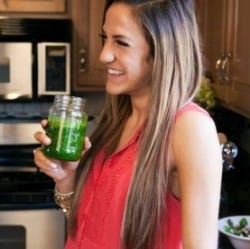 Latest posts by Jessica Sweeney
(see all)