What I Eat In A Day: According To A Brain Health Nutritionist
We Asked Our Resident Nutritionist What She Actually Eats in a Day
"What we eat impacts more than just our waistline. The quality of your diet directly impacts the quality of your life." – Daniel G. Amen, MD
Integrative mental health coach and Amen Clinics resident nutrition counselor, Zoe Davis, has a lot to say about food. With a master's degree in Clinical Mental Health Counseling with an emphasis in Health Psychology, Zoe has had extensive post-graduate training in disordered eating behaviors, nutrition, and holistic obesity care. Her signature approach to eating focuses on total mind, body, and brain nourishment so that food doesn't become a primary coping tool for dealing with psychological stressors.
As a certified brain health coach for Dr. Amen's popular brain health support platform, BrainFitLife, her real food philosophy is rooted in nutrient-dense ingredients, mental wellness, meal prep, balance, and accessibility. We recently sat down with Zoe to find out the top foods for brain health, how to stay healthy when you're constantly on the go, and what a nutritionist eats in a day. Today, we're taking a peek at what fuels her.
BrainMD: What is your food philosophy?
ZD: Eat real food that is recognizable in its original form as much as possible and be sure to eat plants at every meal and snack that you can. Attend to your psychological and emotional health so that food is not a primary tool to cope with emotional discomforts such as depression, discontent, anxiety, or loneliness.
Three ingredients that should always be found in your fridge:
Veggies (especially Brussels sprouts, broccoli, kale, sprouts, and lettuces), pasture-raised eggs, and sprouted almonds. Outside the fridge, I make sure I have jasmine green tea.
What do you eat and drink in a typical day? 
Mornings:
I start my mornings with green tea, usually jasmine green OR bulletproof coffee (half decaf coffee, MCT oil, grass-fed ghee)
Breakfast is eggs with kale, mushrooms, onions OR protein smoothie with greens, unsweetened almond milk, hemp protein, frozen berries, MCT oil or coconut oil
Afternoons:
For lunch, a large salad (mixed greens, broccoli sprouts, radish, broccoli slaw, goji berries, dried chickpeas, pumpkin seeds, walnuts, hemp seeds), with chicken breast. Olive-oil, apple-cider vinegar, and garlic dressing OR wild salmon salad with purple cabbage, jicama, red bell pepper, vegan mayo and Mary's crackers or hemp bread (Happy Campers)
Evenings:
Dinner is usually made up of lentil and vegetable soup with a spinach salad and Doctor in the Kitchen Flackers OR veggie sauté with hemp tofu or tempeh with fresh ginger and coconut aminos with wild rice or quinoa
After dinner: Herbal tea such as chamomile, vanilla, or licorice tea and/or piece of Lily's dark chocolate with a couple of almonds. In the winter I like an occasional chocolate bone broth (grass-fed, organic) with almond or hemp milk. Yum!
Snacks:
Trail mix OR hemp bread (or other gluten-free whole grain bread) with almond butter or pumpkin seed butter
With such a busy schedule, how do you stay on track? Meal prep, home-cooking, take-out? What are your secrets?
I generally avoid take-out (so much plastic!), although occasionally I will get food from the hot bar at a health food store if I'm in a pinch. This is my idea of great fast food! But on a regular basis, the weekend is meal prep time for me. I have made it a habit to cut up veggies immediately after going to the market so I can easily add them to meals throughout the week.
My favorite pre-made veggie mix is a chopped salad of tons of different veggies cut into small pieces for lots of variety in every bite. This usually consists of celery, carrots, broccoli stalk (slaw), radish, jicama, string beans, purple cabbage, bell peppers, and raw beets. I eat this with salsa as the dressing⁠ – it's so delicious!
I also typically prepare a meal to use for busier nights during the week or for quick lunches such as a pot of veggie/lentil or veggie/chicken soup, ground turkey with veggies, or a sheet of baked chicken breasts and a sheet of roasted veggies (Brussels sprouts, yams, asparagus, cauliflower, etc.) with coconut oil or avocado oil for adding to salads or having as leftovers during the week. I also mix up fresh fruit, primarily berries, and always prepare a trail mix for the week with different nuts and seeds, dehydrated coconut, dark chocolate, etc.
Are supplements a part of your daily regime?  
Yes! My everyday supplements include vitamin D, omega-3 fatty acids, NeuroVite multivitamin, magnesium, vitamin C, and a multi-strain probiotic. Other supplements I take as needed, such as quercetin, n-acetyl cysteine, alpha-lipoic-acid, and herbal combinations for an oncoming illness.
Name three ingredients you always avoid:
Gluten absolutely, refined sugar in general but especially corn-syrup, and artificial sweeteners (aspartame, sucralose, saccharin, acesulfame potassium, etc.).
What are the best healthy food options when you're on the go?
Trail mix: walnuts, tigernuts, pumpkin seeds, almonds, Brazil nuts, macadamia nuts, sunflower seeds, goji berries, hemp seeds, unsweetened dehydrated coconut, Lily's dark chocolate chips or cacao nibs
Celery or green apple slices and almond butter or walnut butter
Raw veggies with hummus
Organic seaweed snacks
Dried chickpeas
Blueberries with a handful of walnuts and/or unsweetened organic sheep yogurt
Healthy or not, what's your favorite food?
Ask anyone who knows me well, and they will tell you that almonds are my favorite single food by far, but a meal that I love is pesto with zucchini noodles, mushrooms, and chicken, or curry-spiced sweet potato soup with veggies and chicken – totally amazing!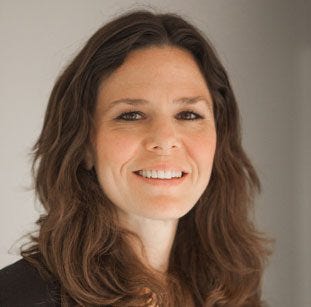 If you could give readers just one piece of health advice, what would it be?
Take an assessment of the areas of your life in which you have unmet nourishment (social, spiritual, psychological, biological) so that food, while it should be enjoyable, doesn't become the primary outlet to meet needs other than for health and vitality. It is amazing when you are getting your needs met through other means (making friends, meditation, therapy, group connection, community contribution) how much less you will eat because you are bored, sad, anxious, angry, lonely, etc. This approach to nutrition makes "will power" much less necessary!
This is the ultimate 'diet': nourishment for your mind, body, and spirit goes far beyond food and when we move from that paradigm, changes to your nutrition habits become SO much easier.
Connect with Zoe online at BrainFitLife or in-person at Amen Clinics. To learn more of Zoe's health tips, join us for Dr. Amen's free Brain Health Revolution beginning Tuesday, January 21st.
At BrainMD, we're dedicated to providing the highest purity nutrients to support your brain health and overall well-being. For more information about our full list of supplements, please visit us at BrainMD.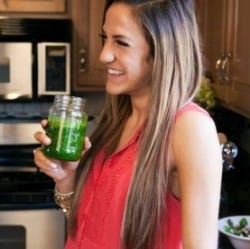 Latest posts by Jessica Sweeney
(see all)