10 Simple Habits for Staying Fit at the Office
10 Simple Habits for Staying Fit at the Office
Exercise is essential to brain health. In fact, physical activity is perhaps the single most important thing you can do to keep your brain and body healthy.
But what if you have kids? Or a demanding career? Or other commitments or social engagements?
After work, most people are worn out from a stressful day. And, with driving the kids to and from activities, helping them with their homework and preparing dinner for the family, many people find that their evenings are just as hectic as their workdays. With so many demands on your time, finding a free moment to exercise may be a significant challenge.
So, what are the alternatives?
Though it probably won't replace an intense workout at the gym, there are ways to focus on fitness at work. Staying active at the workplace will help keep your body fit and your mind sharp. If you're looking for ways to energize your workday, here are 10 simple habits for staying fit at the office:
10 Top Tips for Workplace Wellness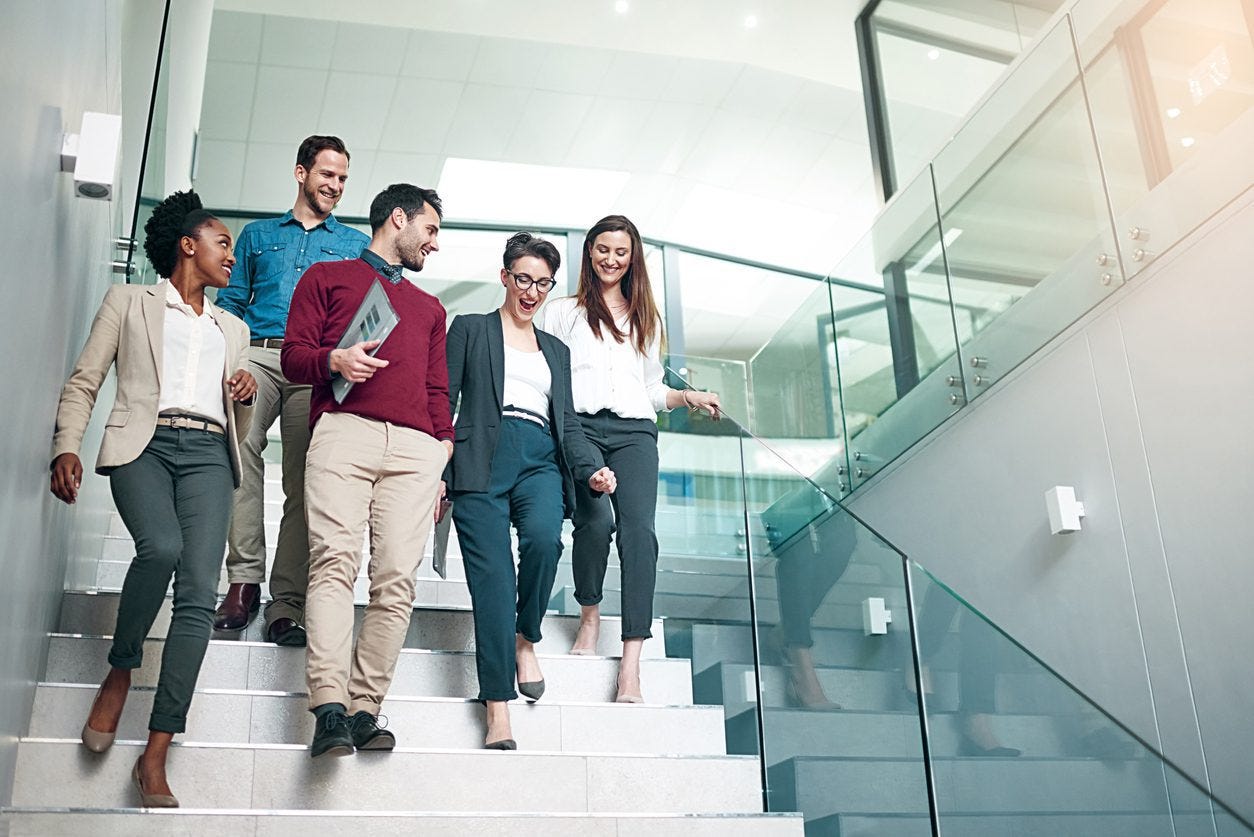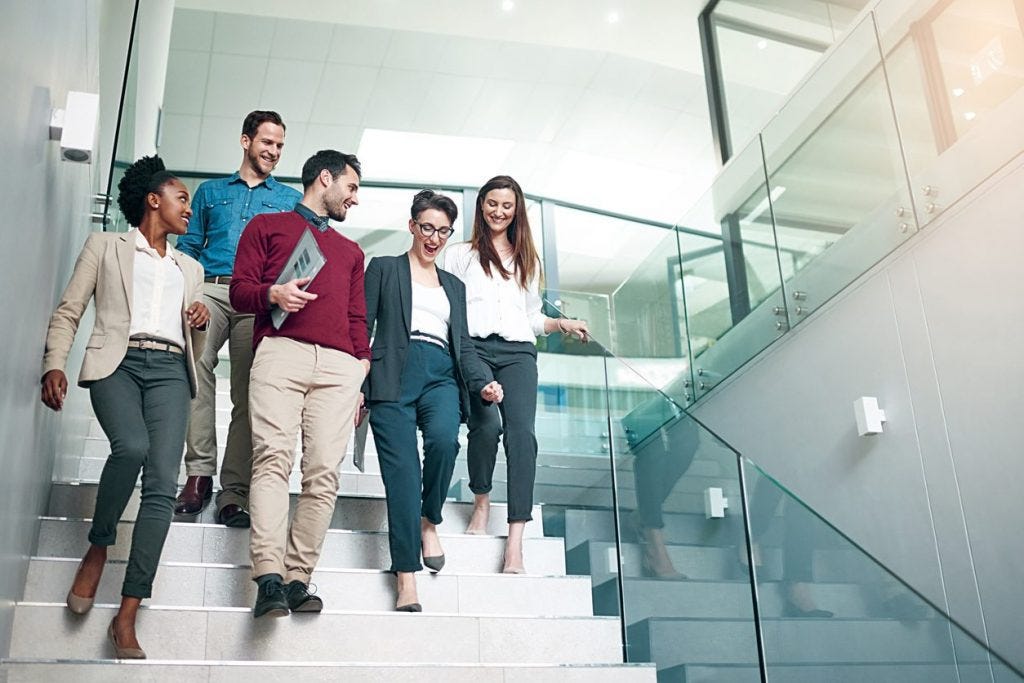 1. Use a pedometer or Fitbit. This will help you track the number of steps you take during the workday. It's amazing how just being aware of a goal can inspire you to move more.
2. Get into the habit of taking the stairs instead of the elevator. Also, depending on accessibility and conditions, you can run up and down several flights of stairs to burn more calories. Be sure to keep an eye out for other people and watch your step…you're trying to get some exercise, not workers' compensation.
3. Turn your team huddles or one-on-ones into walking meetings. You can discuss work matters or just use the time for team building. Also, you can multitask by using your walk times to conduct phone meetings. Many people find they can think more clearly while on the move.
4. Devote 15 – 20 minutes of your lunch break to a power walk. Invite a co-worker to go with you. Besides making a walk more fun and interactive, having someone else to keep you accountable can be a huge help on days when you feel like skipping the walk. Walking with a friend ensures you get exercise, fresh air (and sunshine if it's nice out) and socialization all at the same time.
5. Find some work friends willing to pitch in for an inexpensive ping-pong table so you can play during breaks and at lunch. You might also petition your HR manager to organize an office ping-pong tournament. In addition to providing exercise, coordination enhancement, and brain stimulation, playing ping-pong is an excellent way to create camaraderie among co-workers.
6. Stretch your stress away. Release tension in your shoulders, neck and back with some basic stretches. Consider investing in a handheld roller or electric massager that you can keep at your desk. Massaging sore muscles can help improve mood and reduce stress.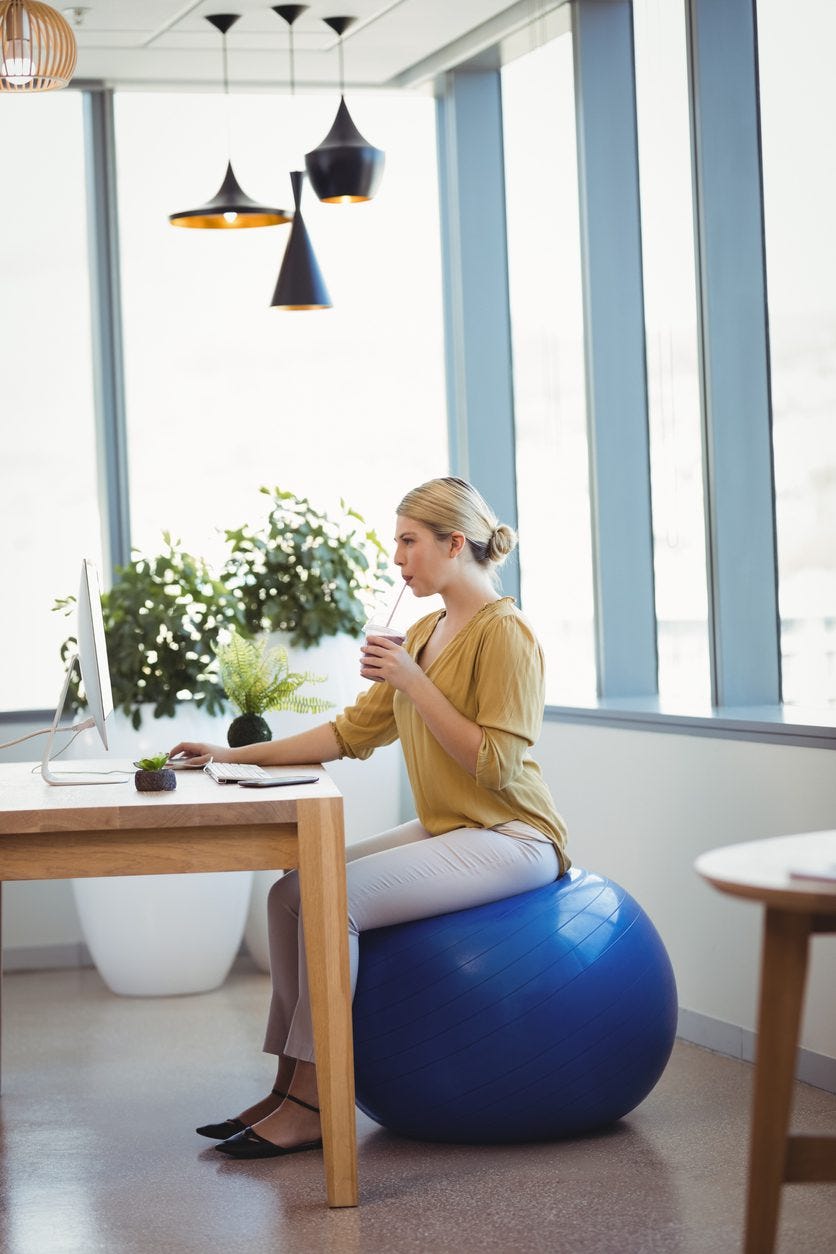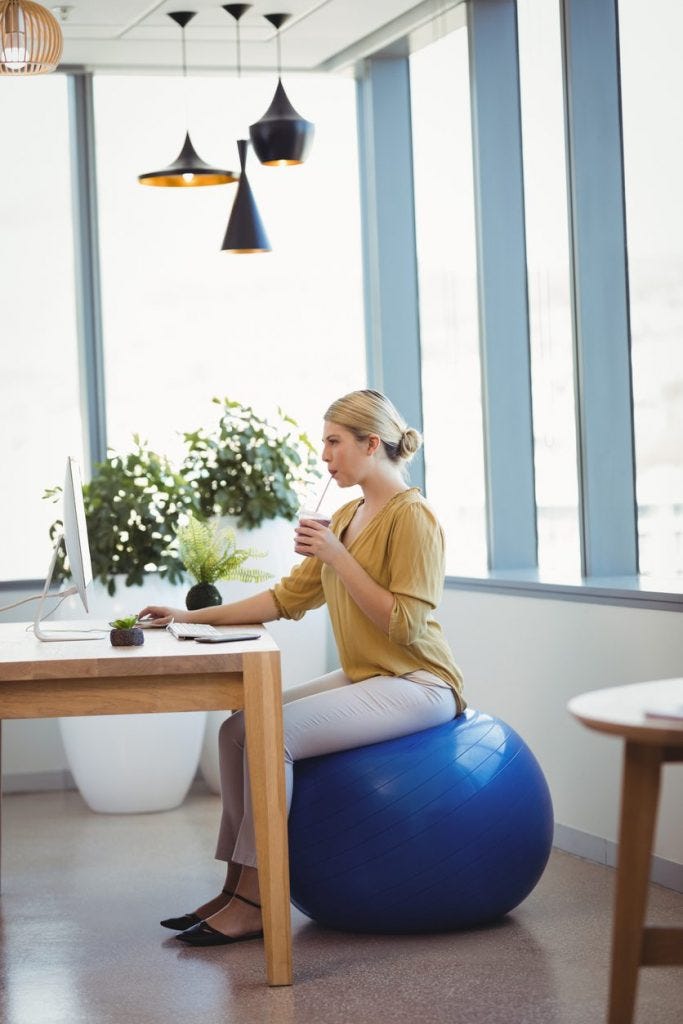 7. Use an exercise ball for a chair. Sitting on an exercise ball engages your core muscles and helps improve balance and flexibility. If you have enough room in your office or cubicle, you can use an exercise ball for its intended purpose. Here are some workout ideas you can try with your exercise ball.
8. Again, depending on how much room you have in your workspace, you can do some basic exercises – like push-ups, sit-ups (crunches), lunges, or leg lifts. Also, there's a whole regimen of exercises you can do with a sturdy chair. All of that is great for strength training, but what about cardio? There are plenty of standbys like doing jumping jacks or running in place. If you've been sitting for more than an hour, it's probably a good idea to stand up and get the blood flowing.
9. Keep a change of clothes, workout shoes, and deodorant at the office. If you work long hours, be sure to block out some time for an energizing workout. You can either do this in the space available in your office or at the gym (if it's a short drive from the office).
10. A phrase frequently heard these days is "Sitting is the new cancer." A treadmill desk can be an excellent investment in your health. Walking at a very slow pace, while you write or reply to emails, can improve your focus and energy. As an alternative, you can petition your employer or HR department to provide you with a standing desk.
As we've seen, there are many ways to stay fit and burn some calories during the workday. Start with one of the above options and then add others as desired. There's enough variety here to keep your workplace workouts engaging and enjoyable.
Final thought: Since the average person spends 90,000 hours of their life at work, it's a smart idea to invest a small portion of that time into maintaining your health and wellness.
At BrainMD, we're dedicated to providing the highest purity nutrients to support your mood and overall well-being. For more information about our full list of supplements, please visit us at BrainMD.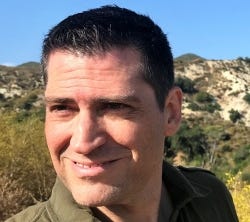 Latest posts by Keith Rowe
(see all)