The 4 Best Ways to Relieve Holiday Stress
The 4 Best Ways to Relieve Holiday Stress
For many of us, the holiday season represents a much-anticipated, joyous time of the year. But for others, it's a hectic and stressful period that's become synonymous with exhaustion, overeating, accruing debt and family drama.
Just hearing the word "holiday" can create anxiety and stress for some people. In fact, a survey by Consumer Reports found that 90 percent of Americans find at least one thing stressful about the holiday season.
However, the holidays don't have to be something you dread. With practical planning and brain-directed supplement support, you can successfully navigate the holidays with happiness and good cheer.
Taking these four steps can help reduce the stress of the holiday season:
4 Steps to Reduce Holiday Stress
Be Grateful
Did you know that practicing gratitude can make your brain work better? Research has demonstrated that people who express gratitude on a regular basis are healthier, more optimistic, make more progress toward their goals and have a greater sense of well-being. Experience the joy that gratitude can bring this holiday season.
Delegate While You Celebrate
You don't have to do everything yourself—you can tackle your "to do" list with others. Spending time with friends and family while you share tasks, like preparing the holiday meal, shopping, cleaning and decorating, can be an enjoyable time of bonding. You don't have to be the holiday hero.
Just Say No
The holidays can make people feel out of control and at the mercy of traditions or expectations. But you can take control of the holidays by refusing to let them control you. Say "no" to events and activities that aren't making you happy or are causing holiday stress.
Get Calming Support
One of the best ways to reduce the anxiety of the holidays is to take BrainMD Health's Everyday Stress Relief, the perfect stress support supplement for daily living.
Everyday Stress Relief, which contains a combination of magnesium, Relora®, holy basil, taurine, and L-theanine, is designed to:
Promote calmness without drowsiness
Maintain a positive mood with sharp mental focus
Manage healthy stress hormone levels
Support your brain and adrenals when dealing with stress
Enhance your energy, endurance and vigor
Everyday Stress Relief has a 100% satisfaction, money-back guarantee. You have nothing to lose except your stress.
For a complete list of our brain healthy supplements, visit the online store at BrainMD.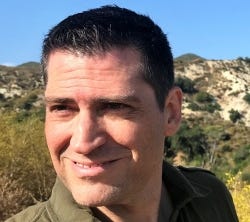 Latest posts by Keith Rowe
(see all)