Stay Healthy This Summer On-the-Go with Daily Vitamin Packs
Warmer weather is here, so it's a great time to head outdoors for some fun in the sun.
Getting outside is important for everyone, especially for those who live a sedentary lifestyle or those who've been cooped up at home for the last several months.
Benefits of Outdoor Activities
Whether you enjoy jogging, horseback riding, or just a long walk, being outdoors can have an overall positive effect on your brain and body. Physical activity also has been associated with improved mood and a more optimistic outlook on life.
Aerobic exercise, sufficient to make you sweat for 30 minutes, increases blood flow to your brain as well as your muscles and other tissues. This helps deliver nutrients and remove waste products. It can even increase the growth factor BDNF which promotes improved brain function.
Regardless of which outdoor activity you choose, here are some tips to help streamline your fun time while on the go this summer…
4 Ways to Stay Healthy This Summer On-the-Go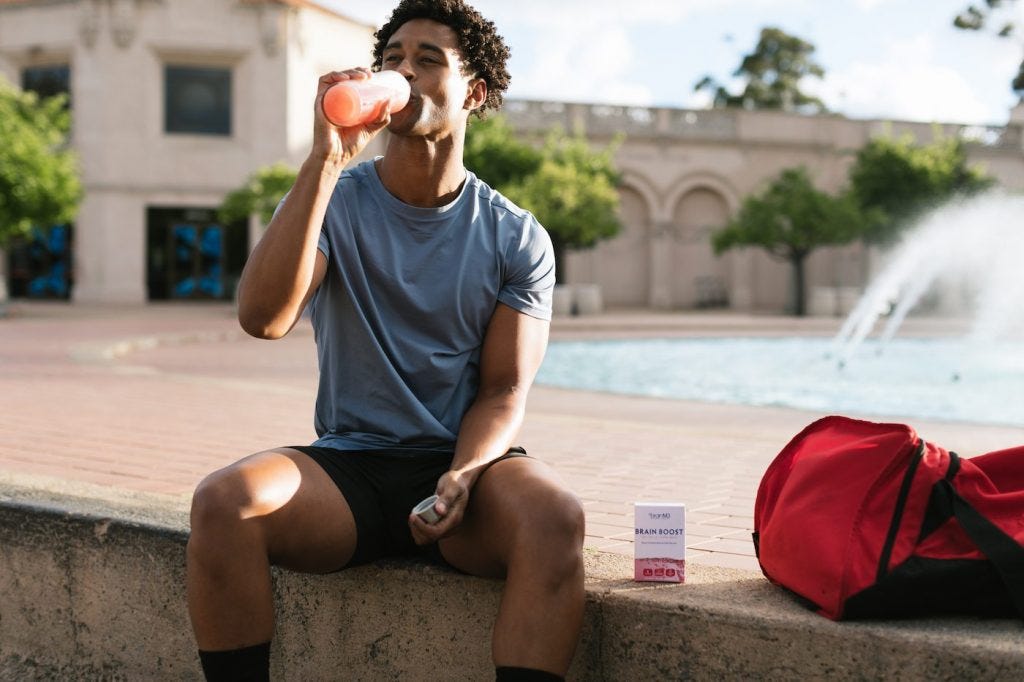 Stay Hydrated
Your brain is 80% water, so anything that dehydrates it (such as too much caffeine or alcohol) should be avoided.
Even mild dehydration can impair performance in tasks that require attention, immediate memory skills, and physical performance. Dehydration is also associated with brain atrophy, poor concentration, memory difficulties, and increased sensitivity to pain.
It's recommended that you drink plenty of water each day to keep your brain and body adequately hydrated. The current recommendations from Food and Nutrition Board of the Institute of Medicine of the U.S. National Academies are that women consume at least 91 ounces of water and men at least 125 ounces daily, from their foods, beverages, and drinking water.
Running out of water can lead to dehydration, heatstroke, and even death. Always take more water than you think you need, especially on hot days or if you live in an arid region. Having extra water at the end of your activity is far better than running out and suffering from heat exhaustion. 
Bring Healthy Snacks
Two popular snacks often taken on outdoor excursions are trail mix and power bars. While generally considered healthy, these snacks may contain unhealthy elements (like M&Ms) or added sugar.
As an alternative, consider packing healthy snacks. Put celery slices, snap peas, or baby carrots into snack bags. Whole foods – such as oranges, apples, or bananas – are super portable since they come in their own containers.
Grab a handful of seeds (pumpkin, sunflower) or nuts (almonds, cashews, walnuts) for a fiber-packed snack.
High-protein foods will give you more energy and high-fiber foods will help you feel full longer. Take fiber along with protein to ensure a balanced, nutritious meal. Try to eat a healthy snack every 2 hours or as often as you feel hungry.
Use Sunscreen
One benefit of engaging in outdoor activities is that you can get some vitamin D3 from sunshine. But there's a danger of getting too much sunlight, specifically exposure to harmful UV rays.
To limit your exposure to these rays, it's wise to use sunscreen. Make sure to cover areas that tend to burn the easiest: face, ears, neck, and limbs.
On sunny days, be mindful of reflections from glass or water, which can amplify the sun's intensity. Also, be aware of overcast days since you can get a sunburn even through clouds.
Be sure to monitor how much sun you're getting – too much exposure can lead to severe sunburn and serious skin conditions. To prevent these detrimental outcomes, always use sunscreen when spending significant time outside. For sufficient protection against damaging sun rays, it's recommended to use SPF 30 or higher.
Remember to bring along some sunscreen in case you need to reapply after a few hours.
Get Nutritional Support with Daily Vitamin Packs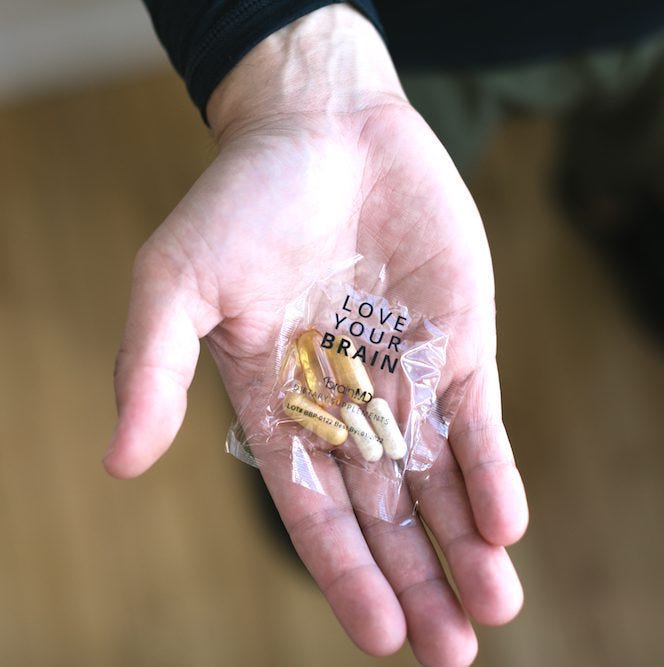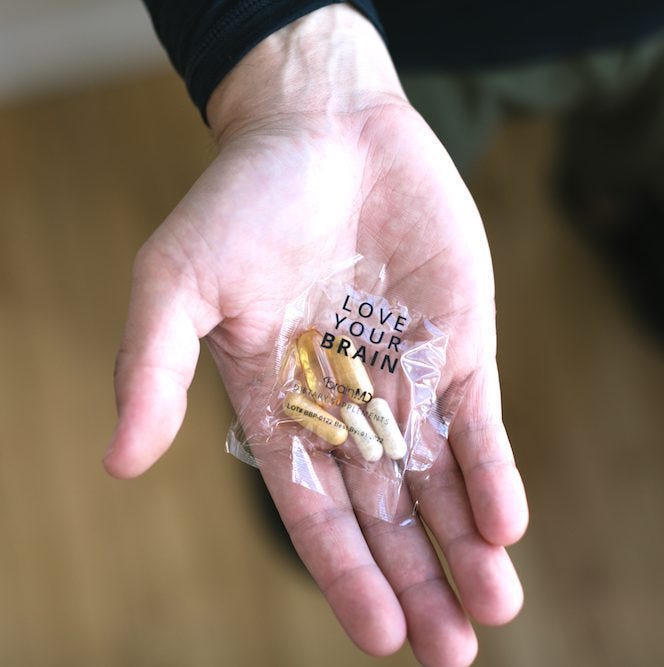 Whether you're hanging out at the beach, hitting the trail for a hiking or mountain biking adventure, or just taking a road trip to get out of town, don't forget to pack the one thing that will supercharge your day from the start…your vitamins!
Maybe it's due to their tiny size, but many people forget to pack supplements or vitamins when leaving for a vacation, weekend outing, or day trip. Although getting off your vitamin regimen is never a good thing, it's particularly detrimental when you head off on a trip or outdoor adventure.
Without the proper nutrients, you may find it difficult to engage in activities that require sustained physical exertion. To prevent periods of energy depletion, low mood, and memory issues, always remember to take your supplements with you.
Your supplement regimen should include ultra-pure vitamins and nutrients that are proven essential for your health, energy levels, mental focus, and physical performance. There's no need to pack bottles or a weekly vitamin organizer – BrainMD offers ultra-pure, brain-directed supplements in convenient daily vitamin packs.
We've developed two different daily vitamin packs to fit your on the go lifestyle:
Brain & Body Power
Brain & Body Power is a supplement system that was designed for essential everyday performance. It's a potent daily regimen of 3 supplements for total brain and body health, offered in convenient packets.
Each packet contains:
NeuroVite Plus (2 capsules)
This powerful combination of 50 vitamins, essential minerals, standardized plant extracts, and digestive enzymes (carefully selected for optimal bioavailability), is foundational to your supplement regimen.
Omega-3 Power (1 capsule)
Omega-3 Power provides a high dose of omega-3 fatty acids (essential for your brain and overall well-being), is made from sustainably harvested fish stocks, and is screened for over 250 potential contaminants to ensure maximum purity.
Brain & Memory Power Boost (2 capsules)
Our bestselling, brain-boosting formula provides an unparalleled mix of potent nutraceuticals and herbals to support the brain's energy, connectivity, blood flow, oxygen supply, information processing, and memory performance.
This supplement system provides high-quality, comprehensive nutritional support for optimal brain and body health.
Brain & Body Power Max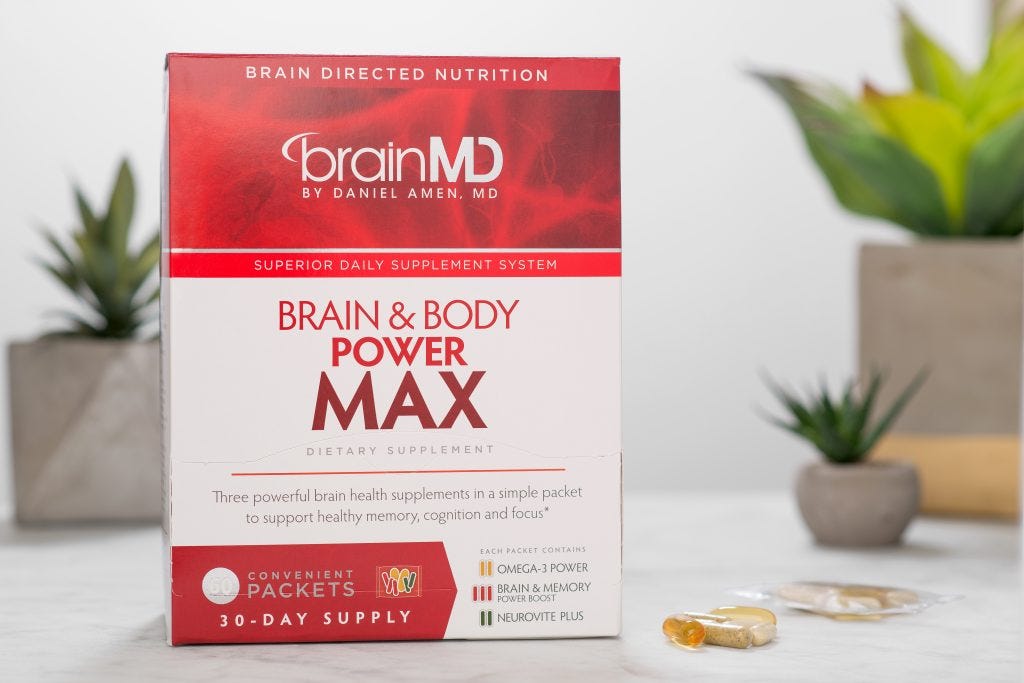 Brain & Body Power Max is for those who want a truly powerful dietary supplement system that provides superior memory and brain support. It offers an additional allowance of vitamins, minerals, omega-3s, concentrates of herbal and food plants, and other nutrients that support, promote, and enhance the brain and body.
This all-in-one supplement system makes it easy to stay healthy on the go with portable packets for your purse or pocket.
For optimal benefit, we recommend taking 2 packets each day.
Each packet contains:
NeuroVite Plus (2 capsules)
Over 50 vitamins, minerals, plant extracts, and other nutritional ingredients (all in their most active forms) combine in NeuroVite Plus to give you the clinically-proven groundwork for your supplement regimen. 
Omega-3 Power (2 capsules)
To operate at peak performance, a healthy brain, heart, and body require plenty of EPA and DHA omega-3 fatty acids. This fish oil concentrate provides a much higher potency than the typical fish oil product and undergoes the most advanced purification process in the industry to ensure safety. 
Brain & Memory Power Boost (3 capsules) 
Brain & Memory Power Boost contains brain-directed nutrients, grounded in solid clinical science to support healthy brain and memory performance. With its all-star lineup of potent ingredients, Brain & Memory Power Boost promotes the brain's basic functions including its energy, connectivity, and overall performance. 
Stay Active
Physical activity is perhaps the single most important thing you can do to keep your brain and body healthy. Both aerobic and isometric exercise can improve brain health. Exercise is a great way to feel better, stay healthy, and just have fun.
As a general goal, aim for at least 30 minutes of some form of physical activity at least 5 days a week. If you're looking to lose weight, you may want to extend the duration and increase the intensity of your workout sessions.
Be sure to properly warm up with basic stretches before beginning any exercise or physical activity.
Putting these tips into practice can give you the support and nutrients you need to stay active and enjoy a brain-healthy life.
At BrainMD, we're dedicated to providing the highest purity nutrients to improve your physical health and overall well-being. For more information about our full list of brain healthy supplements, please visit us at BrainMD.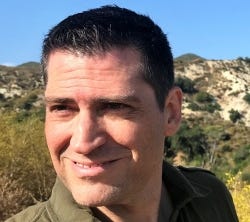 Latest posts by Keith Rowe
(see all)