Here Are Some of the Best Fall Vegetable Dishes + Recipes
Surveys indicate that Americans love fall more than any other season. It's easy to understand why!
Autumn's glorious changing colors of nature and cooler, cozy weather are calming to the spirit. They also inspire us to cook hearty dishes that provide warmth, comfort, and nourishment amidst the shorter days and longer nights.
Fall's bounty of vegetables is gorgeous too. Brimming with color, flavor and, brain healthy nutrients, they offer an opportunity to celebrate the season with delicious vegetable dishes that provide your brain and body with vital nutrients, helping you to feel your best.
Enjoy the following fall vegetable recipes. Try one for a weeknight dinner and save some for lunch the following day – or include them in a holiday meal.
These Are 5 of the Best Fall Vegetable Dishes!
Starting at the Roots
Root vegetables are warming, nourishing, substantial, and soothing. They benefit your heart, circulation, microbiome, as well as help tonify your liver and gallbladder.
They are loaded with nutrients such as healthy complex carbohydrates, fiber, folate, vitamins A, B and C, minerals like manganese and potassium, and antioxidants such as beta-carotene, chlorogenic acid and anthocyanins, and have anti-inflammatory properties.
Roasted Root Veggies and Kale
This wonderful mélange of root vegetables can both compliment a meal as a side dish or serve as a stand-alone.
INGREDIENTS
3 to 4 pounds root vegetables of your choosing: turnips, parsnips, rutabagas, carrots, beets (golden), celery root, and potatoes, peeled and cut into chunks
1 head garlic, separated and peeled cloves
6 tbsp extra virgin olive oil (separate)
1 tsp Himalayan pink salt or sea salt
½ cup chopped onion
1 tbsp tomato paste
1 can whole peeled tomatoes (28 ounces)
2 cups chopped kale (or Swiss chard)
1 tsp of Italian spices or oregano
Black pepper (to taste)
Red chili flakes or tabasco sauce (to taste)
INSTRUCTIONS
Roast the veggies:
Preheat oven to 450°F.
In a large roasting pan, mix together the root veggies, garlic, and 3 tbsp olive oil. Sprinkle with salt.
Roast for 45 min (turning the vegetables over in the pan after 20 min or so).
Make the tomato base:
While the vegetables are roasting, in a Dutch oven (that can hold 4-5 quarts), heat 3 tbsp. Olive oil on medium heat. Add in onions and sauté until edges are slightly brown. Stir in tomato paste. Cook for a minute or two.
Pull apart the canned tomatoes into large pieces as you add them to the pot. Pour in the remaining liquid from the can into the pot. Stir well. Add the Italian seasoning. Bring to a simmer, then lower the heat to the lowest possible setting. Cover the pot and let cook gently while the root vegetables are roasting.
When the vegetables are roasted and browned:
Add the veggies to the tomato base. Add in kale. Stir well. Simmer until greens wilt (about 5 min). Season with salt and pepper to taste. Top with Tobasco sauce or chili flakes to taste.
Plant-Based Turnip Gratin
Swap out a heavy, cheesy dish for this healthier, plant-based one featuring turnips.
INGREDIENTS
2 tbsp olive oil
3 medium onions, thinly sliced
Himalayan or sea salt
5 garlic cloves, thinly sliced
2 cups full-fat coconut milk
1 ¼ cups vegetable stock
¾ cup nutritional yeast
½ tsp dried thyme
1 tbsp arrowroot flour
4-5 smaller turnips with greens
8 oz day-old bread, cut into ½-inch pieces
1 cup grated vegan mozzarella cheese (plus more for topping)
black pepper
INSTRUCTIONS
Heat 1 tbsp of olive oil in a large skillet over medium-low heat. Add the onions and season with 1 tsp of salt. Cover and cook, stirring occasionally until the onions are soft and caramelized (45-60 min). (If the onions stick or begin to brown, add water, 1 tbsp at a time.) When you're done, transfer the onions to a bowl to cool.
While the onions are cooking, make the cream sauce:
Heat a drizzle of olive oil in a medium-sized saucepan. Add in the garlic, coconut milk, vegetable stock, nutritional yeast, and thyme. Bring to a simmer over medium heat. Then add in the arrowroot flour and reduce heat to low. Let simmer for 30 minutes. Set aside.
Prep the turnips:
Remove the greens from the turnips. Wash and chop the greens. Peel and cut the turnip roots into ½ inch pieces.
Bring a large pot of well-salted water to a boil to cook the turnips and greens. Prepare a large bowl of ice water and keep it close by.
Blanch the turnip roots by adding them to the pot of water and cooking them for about 2 minutes. Using a slotted spoon remove them from the water and immediately plunge them in the ice water. Drain on a paper towel lined dish.
Then cook the turnip greens in the boiling water for about 1 minute only (or until vibrant green and tender). Then plunge them into the ice water and then drain. Squeeze out excess water.
Add the turnips and greens to the bowl of caramelized onions. Add the bread, cream mixture, vegan cheese, and season with salt and black pepper.
Preheat the oven to 375° F.
Grease baking dish with a drizzle of olive oil. Transfer the turnips and onions into the baking dish. Spread the ingredients out into an even, compact layer and top with more vegan cheese.
Bake uncovered, until well browned (about 50-60 minutes).
Let cool for 5-10 minutes and serve!
The Salads of Autumn
You can get inventive with salads featuring fall's bounty. They make for unique flavors and pleasing colors. With heavy holiday meals, a salad can provide light, refreshing contrast.
Of course, they offer high nutrition too as greens are loaded with vitamins and minerals, nuts offer healthy fats and fiber, and fall veggies are rich with all the above.
Kale-Nut Vinaigrette
Kale is perfectly paired with this sweet, nutty vinaigrette.
INGREDIENTS
1½ cups pecans
2 finely grated garlic cloves
½ cup of extra-virgin olive oil
1 tbsp maple syrup
½ cup of apple cider vinegar
Himalayan or sea salt; freshly ground pepper
2 large bunches of Tuscan Kale with leaves thinly sliced (ribs and stems removed)
1 bunch of trimmed, thinly sliced radishes
INSTRUCTIONS
Preheat oven to 350° F.
Toast pecans on a rimmed baking sheet, tossing halfway through, until lightly darkened and aromatic (about 8–10 minutes). Let cool.
Transfer a handful of pecans to a cutting board and chop coarsely; set aside.
Pulse garlic, oil, maple syrup, and remaining pecans in a food processor until nuts are in small pieces. Move to a large bowl and stir in vinegar. Season with salt and pepper to taste.
Add kale and radishes to salad bowl with dressing. Toss and taste to determine if more salt and pepper are needed. Top with reserved chopped pecans and voila, your salad is ready to go!
The Autumn Harvest Salad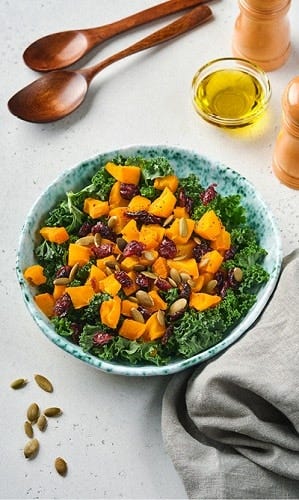 The crowing feature of this salad is the sweet potato, which offers visual appeal and a boost of nutrition. Sweet potatoes are filled with vitamins, minerals, antioxidants like beta carotene and anthocyanins, and both soluble and insoluble fiber.
INGREDIENTS
½ diced sweet potato
1 tbsp coconut oil, melted
¼ tsp ground cinnamon
¼ tsp sea salt
¼ tsp ground black pepper
½ tbsp apple cider vinegar
½ tbsp pure maple syrup
½ tbsp extra-virgin olive oil
¼ tbsp Dijon mustard
2 cups chopped romaine lettuce
½ cup canned black beans
½ cup cooked quinoa
¼ cup dried cranberries
¼ cup chopped raw almonds
INSTRUCTIONS
Prepare Sweet Potato:
Preheat oven to 425°F.
Line a baking sheet with parchment paper.
In a bowl, combine diced sweet potatoes with coconut oil, cinnamon and half of the salt and pepper. Spread the sweet potatoes across the pan evenly. Bake until
potatoes are tender, stirring them halfway through (about 20-30 min).
Prepare dressing:
In a medium-sized bowl, whisk together the vinegar, maple syrup, olive oil,
Dijon mustard, and the remaining half of the salt and pepper.
In a large salad bowl, combine together lettuce, beans, quinoa and toss. Add dressing and toss again until it is evenly mixed. Top with sweet potatoes, cranberry, and almonds.
Squash It!
What would fall be without the color and flavor of squash such as acorn squash, butternut squash, spaghetti squash, and sugar pumpkin? While they can be a little intimidating, as they require some work, they're worth the effort!
In some areas of the world, squash is considered a superfood. High in alpha-carotene and beta-carotene, which convert to vitamin A, vitamin C, fiber, and antioxidant and anti-inflammatory compounds – these gourds deliver the goods!
Baked Honeynut Squash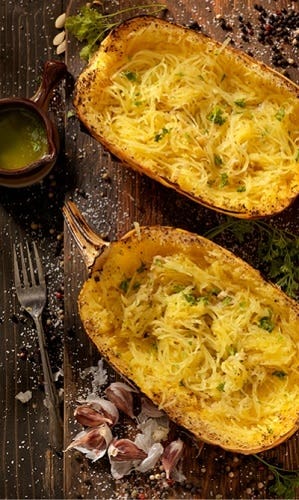 Honeynut squash is a new hybrid of butternut squash and has the unique benefit of being a smaller size, similar to a russet potato. Also, its skin is thin and edible, and doesn't need to be peeled. One honeynut squash serves one or two people.
INGREDIENTS
2 medium honeynut squash, halved lengthwise and seeded
4 tsp of coconut oil (or olive or avocado oil)
¼ tsp salt
¼ tsp ground pepper
¼ tsp ground cinnamon
4 tsp of pure maple syrup
INSTRUCTIONS
Preheat oven to 425° F.
Slice and open the squash lengthwise. Use a spoon to scoop out the seeds and the first shallow layer of flesh.
Arrange squash halves cut-side up on a baking sheet. Place 1 teaspoon coconut oil in each cavity. Sprinkle with salt, pepper, and cinnamon. Drizzle with maple syrup. Roast until tender (about 25-30 min).
More Veggies to Explore
These recipes offer up just a few ideas. Other stars of the fall lineup of vegetables include Brussels sprouts, broccoli, cauliflower, beets, mushrooms, cabbage, chard, and collard greens, to name a few.
Enjoy them at their best!
At BrainMD, we're dedicated to providing the highest purity nutrients to improve your physical health and overall well-being. For more information about our full list of brain healthy supplements, please visit us at BrainMD.

Latest posts by Kim Henderson
(see all)