This Is How to Make Healthy Summer Smoothies
If you don't drink smoothies, now might be the perfect time to start. With the abundance of fruits and vegetables now available, it's the ideal season to enjoy healthy summer smoothies, custom designed to support your brain and body health.
With a good blender and a few basic ingredients, you can create a delicious, highly nutritious liquid meal for breakfast, post-workout, or on the go. What's more, kids love them too.
Benefits of Smoothies
Smoothie making has been going on for nearly 100 years. And while some store-bought smoothies may be no better than a milk shake, you can make your own healthy smoothies. In fact, if you do it right, a well-crafted smoothie can:
Some research indicates that smoothies made with whole fruit offer a lot of fiber and score lower on the glycemic index, which means there's no big blood sugar spike.
One smoothie can provide as much as 3 servings of fruits and vegetables, depending on what you include.
Deliver Hydration and High-Quality Nutrition
Power packed with vitamins, antioxidants, protein, and healthy fats, smoothies provide your brain with the hydration and nutrients it needs to work optimally.
Help Manage Food Cravings
When your body is fed real and balanced nourishment, it helps to curb food cravings.
Especially if your smoothie contains greens or immune boosters such as ginger, green tea, vitamin-C rich fruits, or cruciferous veggies, a smoothie can boost your immune function.
That sounds pretty good, doesn't it? Well, let's look at the components of a high-quality smoothie!
Some of the Best Ingredients to Make Healthy Summer Smoothies
Whole Fruit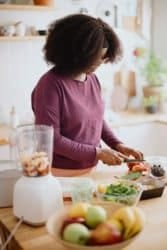 Choose whole fruit over fruit juice. Frozen bananas and berries are essentials. The banana provides a natural creamy thickener as well as sweetness.
Berries deliver big on vitamins and antioxidants, while providing a refreshing, fruity taste with tempered sweetness. Frozen berries might be ideal for hot, summer days, but fresh berries work too.
Apples and oranges are always a great addition. For a tropical twist, try mango, pineapple, or papaya. They're loaded with digestive enzymes as well.
Melons, cherries, and peaches are great in summer when they're at peak ripeness. Keep in mind that if you have blood sugar issues, you may need to avoid ultra-sweet fruits.
Use specific fruits to provide sweetness, thickness, flavor, and texture. Pitted Medjool dates are a go-to for natural sweetness. Avocado can provide a thickening creaminess, as well as an alternative to banana with the added benefit of healthy fat.
Dried coconut, acai berries, goji berries, tart cherries, and pomegranate offer up some exciting flavors and antioxidant power. Experiment and have fun!
Veggies
Vegetables may not sound very appealing in a smoothie, but they can help balance the flavor, while providing a power punch of nutrients. Greens are wonderful in smoothies – especially kale, spinach, Swiss chard, and greens powders and superfoods. When combined with fruit, protein powders and/or plant milks are hardly noticeable.
Other refreshing veggies to consider are celery and cucumber. These can be especially nice in a lighter smoothie. They have cooling properties too, perfect for summer.
To add bulk and nutrients, consider adding broccoli, cauliflower, or zucchini. Colored veggies like carrots, beets, sweet potato, pumpkin, and butternut squash will give your summer smoothies a boost of beta carotene and other healthy antioxidants. Some are known to boost blood flow as well, which is excellent for brain function!
Plant Milk, High-Protein Yogurt, and Protein Powder
The addition of a plant milk and/or protein powder to a smoothie helps to make it creamy and delicious. Ample protein is essential to help your body repair cells and make new ones – especially post work-out. Protein also gets your brain working first thing in the morning.
Plant milk is generally preferred as it doesn't have the saturated fat found in regular milk. Soy, hemp, oat, almond – choose your preference. Get plain, unsweetened plant milk or one that's mildly sweetened without refined sugar.
For yogurt, Greek is high in protein. As with plant milk, get plain and unsweetened.
The best protein powders – whether they're made from whey, soy, pea protein, rice protein, or another vegetarian source – are the ones with few ingredients and no added sugar. BrainMD's OMNI Protein Vanilla and Chocolate powders are ideal. They're plant-based and support mental focus, muscle energy, exercise, and stress recovery.
Healthy Fats
You can boost the nutrition factor of your summer smoothies even more by including nuts, nut butters, seeds, and healthy oils.
Almond butter and cashew butter deliver healthy fats, rich creaminess, and a moderate serving of protein. However, they're calorie dense, so don't overdo it.
A moderate amount of coconut oil is rich in medium-chain triglycerides, believed to be important to brain health. Flaxseed oil provides a boost of brain healthy omega-3 fatty acids. Of course, adding hemp seeds and chia seeds gives a boost of omega-3s as well, with a bit of protein too.
Something Extra
Spices and health boosters can make a good smoothie fantastic. Some popular go-to spices that are flavorful and good for your health include cinnamon, unsweetened cocoa, vanilla, allspice, nutmeg, mint, curcumin, cardamon, and ginger.
You also can boost the health factor of your smoothie with a number of additions such as cacao nibs, dried coconut, coconut water, fresh coconut cream, dried fruit, green tea, matcha green tea powder, maca, bee pollen, aloe vera, mushroom powder, collagen, and more.
Getting Started
To help jump-start your creativity, here are three fruit smoothie recipes. These are particularly great morning smoothie recipes, but you can make them anytime.
Once you get the hang of these, try your own!
Summer Morning Starter
Ingredients:
½ ripe organic banana
½ cup of frozen organic blueberries
4 medium/large organic strawberries
2 Medjool dates (pits removed)
2 scoops of protein powder (no sugar added)
¼ cup of plain high protein Greek yogurt
½ cup of unsweetened oat milk (or plant milk of choice)
2 tsp chia seeds
1 tsp of ground flax
1 tsp of flaxseed oil
½ cup of ice
Peachy Keen Chia Chiller by Tana Amen
Ingredients:
1 fresh peach or 1 cup frozen peach slices
2 tablespoons chia seeds
½ cup light coconut milk
2 cups spinach or chard leaves
2 scoops vanilla protein powder
1 cup ice, approximately
24-30 ounces cold water (or replace half with unsweetened almond milk)
Super-Focus Smoothie by Tana Amen
Ingredients:
24 ounces iced green tea
1 large green apple, cored and quartered
2 scoops vanilla protein powder (plant based, sugar free)
2 cups spinach
1 tsp of cinnamon
½ tsp of nutmeg
2 tbsp of flax or hemp seeds
1 cup ice, approximately
Preparation for all three summer smoothies: Blend all ingredients in a high-powered blender until smooth. Divide evenly between two glasses. Serve cold.
Enjoy!
At BrainMD, we're dedicated to providing the highest purity nutrients to improve your physical health and overall well-being. For more information about our full list of brain healthy supplements, please visit us at BrainMD.

Latest posts by Kim Henderson
(see all)