7 of the Best Ways to Have a Stress-free Move
It's no secret that moving is considered a stressful life event, and it can be particularly hard on children, research suggests.
The peak moving season is May to August.
If you're planning a move or are in the process of moving, it's a good time to explore how to handle the stress of moving. To make your move as stress-free as possible, here are seven tips to keep in mind!
7 Top Tips for How to Have a Stress-free Move
A Move Is an Ending
A move marks the ending of a chapter in one's life, and children and adults alike may have feelings of grief and sadness. It's important to give yourself (as well as your children and partner) space to have those feelings.
Consider creating a ritual prior to your move. Maybe light a candle and share memories and what you've enjoyed about living in your home. Bringing feelings to the surface will help keep stress levels down.
Start Sorting Early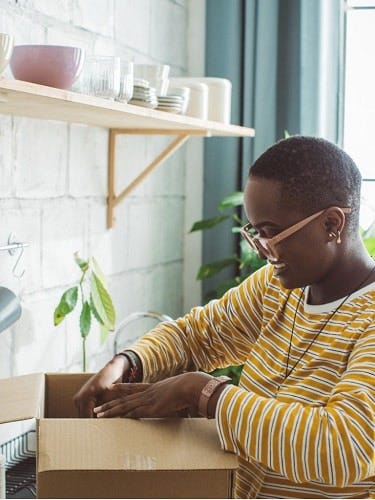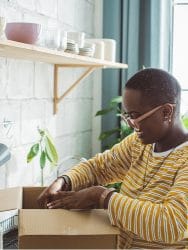 Whether you have a move date locked in, if you know it's imminent, start the process of sorting and dispensing of unneeded items now. This is especially important if you've lived in the same residence for several years, or if you're moving to another state or country. You may have an attic, garage, basement, or closets full of items to go through.
Break it down, room by room. You may need to take it closet by closet, box by box, drawer by drawer.
Donate, give away, or sell as much as you can. Remember, you can get a tax write off for items donated to charitable organizations. If you have time and energy, consider having a moving sale.
This can be a tough process, but decluttering can reduce stress and boost mood! It will feel great to pare things down, like shedding a skin.
Pack Early and Label
This is probably the single most important action you can take to ensure a less stressful moving day. Be sure you have all the materials you need – tape, packing paper or old newspaper, bubble wrap, and markers to label each box. If finances are an issue, check online neighborhood apps to see if anyone is giving away used boxes.
Pack boxes carefully and methodically, labeling all sides for the correct room and a description of what's inside. Make a schedule or goal for how many boxes you'll pack a day or week. Start with the items you don't often use and save everyday items for the last few days.
Invite others to help you! Even if they help to pack just one box, the communal support and laughter will help relieve stress.
Use Movers If Possible
If you can afford it, use a well-reviewed moving company, or better yet, take a recommendation from someone you know. Book early. Ask if they will offer cash discounts as this is a common practice. Be sure to ask what their policy is for broken or damaged items.
If you have the resources, you can have them pack items for you, which can take a huge load off your shoulders. Just remember, items can get damaged during a move. Adjust your expectations.
If you can't afford movers, rent a truck and ask reliable family members or friends to help with your move.
Take care of your movers. It may go a long way toward ensuring a positive outcome.
Pick up coffee or make sure you have cold beverages. Offer to pick up lunch or dinner. Pay for gas if your movers are family or friends and always tip well.
Step Up Your Self-Care
Keep your self-care habits on point as much as possible before and after your move.
Maintaining good self-care will help you handle the stress of moving better.
Prepare for Your New Beginning
Before you move is a great time to take note of resources in your new neighborhood. Find the closest grocery store, gas station, cleaners, and hardware store.
Look for an appealing restaurant or coffee shop. If you have kids, research local recreational resources for them or if any kids their age will be in your neighborhood.
If you have any friends or relatives in your new neighborhood, contact them and let them know ahead of time that you'll be moving. Maybe make a tentative plan for a get-together after you've moved in.
Start planting seeds for your new life ahead of time!
Easy Does It
Once you're in your new home with all your boxes, take it easy! You don't need to unpack everything all at once.
Unpack the boxes you'll need right away – bedroom, bathroom, and kitchen. Don't rush with the non-urgent items.
You can plan to get through a certain number of boxes each day. If there's a room in your new residence that won't be used as much, designate it as the area to place lower priority items that you can unpack over time.
Last Thought
Remember, it takes time to make a new home feel like home. You may feel unsettled for a while after your move. That's normal.
Moving can be a wonderful, life-affirming process, as it's a new beginning. A house-warming party is a great way to mark your new beginning.
At BrainMD, we're dedicated to providing the highest purity nutrients to improve your physical health and overall well-being. For more information about our full list of brain healthy supplements, please visit us at BrainMD.

Latest posts by Kim Henderson
(see all)