Meal Planning for Weight Loss: Best Tips to Help You Reach Your Goals
If you need or want to shed some weight, one winning strategy is planning your meals ahead of time. It's one of the simplest ways for you to ensure you nourish your body well while also working toward weight-loss goals.
Indeed, studies show meal planning can be helpful for losing weight. A 2021 weight-loss study found that participants who more frequently engaged in meal planning lost more weight over the course of the program. The meal planning appeared to be even more important than exercise planning in terms of effective weight loss.
In a 2017 study conducted by French researchers, meal planning was associated with participants having both a healthier diet and less obesity.
Here are some meal planning for weight loss tips gleaned from health experts and researchers.
Top Meal Planning Tips to Help Maximize Weight Loss
Getting Started
To shed pounds, you'll need to create a calorie deficit over the long run. Researchers have discovered that the most successful weight loss usually happens by reducing caloric intake enough to be effective, but not so much that it causes a great deal of discomfort (hunger) or restriction (deprivation).
It's a tricky balance. If your meal plan is too restrictive, you run the risk of losing control when less-than-ideal food choices are present.
Generally, health experts recommend reducing calories by no more than 250-500 a day for safe, sustainable weight loss. Ensuring your meals are satiating and satisfying by including healthy fats, protein, and foods rich in fiber can help to protect against getting too hungry. Also, seriously cutting back on refined carbohydrates, saturated fat, and sugary foods will help to keep cravings down and blood sugar levels more even.
If you plan to do any weight training or aerobic exercise, your physical activity needs to be considered in your food intake. Protein requirements increase if you plan to build muscle. Also, exercise is a major factor in calorie burning.
Consult a registered dietician or healthcare provider to help you determine what type of food plan and caloric intake will be ideal. Your health, weight, age, activity level, and more can all factor into what will work best for you.
It's also important to consult your medical doctor before making any major changes to your diet, especially if you have any health conditions.
What Foods Are Best?
While there's no one perfect eating plan for weight loss, choosing foods that support optimal brain and body health is a great place to start.
That includes the following nutrient-dense foods:
Colorful vegetables and fruits, as well as beans and legumes
Healthy fats from nuts, seeds, avocado, olive oil, and omega-3 rich fatty fish
Whole grains such as quinoa, rye, brown rice, whole oats, barley, and other cereal grains
Lean, organic natural meats, poultry, and eggs; wild-caught fish
Moderate amounts of dairy such as probiotic-rich plain yogurt or kefir and low-fat cheese as they are important sources for calcium, B vitamins, and vitamin D (unsweetened, enriched soy alternatives can work if you don't eat dairy)
Herbs and spices
To support your brain and body health, there are some foods you need to limit:
Refined carbs and added sugars (less than 10% of daily food intake)
Saturated fat (less than 10% of daily food intake)
Additives, preservatives, artificial sweeteners (try other sweeteners like stevia)
Processed foods
Alcohol
The latest U.S. macronutrient guidelines suggest your diet be comprised of 10% to 35% protein; 25% to 35% healthy fat; and 45% to 65% quality carbohydrates. You may need to alter this ratio depending on your specific needs.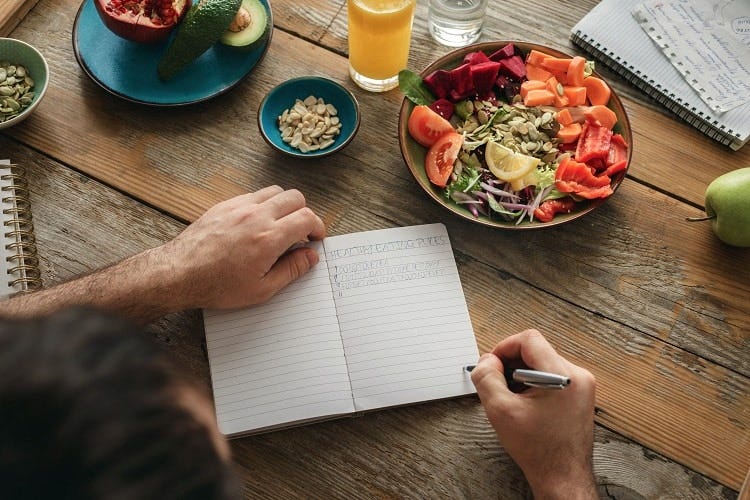 Meal Planning
Start by going online to get ideas for healthy and delicious meals, knowing your own personal restrictions. If you have family members or a spouse to consider, try to find recipes that can be modified for you.
Once you have an idea of what you'd like, sketch out breakfast, lunch, and dinner, as well as snack options for 3-4 days to start. You can plan for longer periods after you get the hang of it. Plan healthy meals you think you'll really enjoy.
Here are some highly nutritious, brain healthy meal ideas to help inspire you:
Breakfast
Overnight oats with chia seeds, Greek yogurt, and berries
Scrambled eggs with added spinach, whole grain toast
Protein smoothie with unsweetened protein powder, Greek yogurt, plant milk, berries, ground flaxseed and banana
Lunch
Tuna salad with quinoa, avocado and sunflower seeds
Hummus and tofu hand roll on whole-wheat tortilla/chapati
Egg salad over spinach and baby green salad with cucumber, beets, and walnuts
Dinner
Healthy turkey vegetable chili, garlic whole grain or sourdough toast, green salad
Broiled salmon, steamed broccoli, and yam
Chicken or tofu stir fry over brown rice
Snacks
Almond butter and sliced apples
Greek yogurt and berries
Veggie sticks and hummus
Almonds and an ounce of dark chocolate
Devise a grocery list based on what you'll need for your meals. Stick to it when you go to the market!
Meal Prep
Take an hour or two, perhaps on a Sunday, to do your meal prep. If you live with others, get them involved!
Do all that you can ahead of time to facilitate ease during the week. The more prepared your meals and snacks are ahead of time, the easier it will be to stick to them.
Here are some ideas of what you can prepare ahead of time. Consider using healthy cooking techniques to maximize the nutritional value of your food. You may need to invest in some glass containers for storage!
Bake or grill chicken with olive oil, garlic, and seasonings. Chop when cooled and store.
Cut and bake sweet potato brushed with olive oil. Store when cooled.
Wash, dry, and chop lettuce, cabbage, and raw veggies, etc. Don't do more than a few days' worth to ensure freshness. Store.
Bake beets and other mixed veggies together with olive oil and seasoning. Store.
Cut fruit. Drizzle a little lemon on top to maintain freshness and dissuade bruising (especially when cutting apples). Store.
Boil eggs. Peel and store.
Make some quinoa and/or brown rice. Store when cooled.
Prep overnight oats.
Prep salmon with lemon and olive oil and your favorite seasoning so that it's ready to broil. Store.
Make your turkey chili. Portion and store when fully cooked. Freeze some for future use.
Make your hummus. (You can also buy hummus at the market if you don't want to make it. It doesn't take long to make though and tastes delicious fresh!)
Make a healthy salad dressing ready to go.
Make some green iced tea or herbal iced tea to have on the ready.
Once you have your bulk items prepared, portion out your meals and snacks for at least the next day – or maybe two days so they're ready to go.
Make a Change
It may seem like a lot, but meal planning for weight loss is easier than you think. Enjoy the process as you're taking time to really care for your health and action to ensure weight loss.
At BrainMD, we're dedicated to providing the highest purity nutrients to improve your physical health and overall well-being. For more information about our full list of brain healthy supplements, please visit us at BrainMD.

Latest posts by Kim Henderson
(see all)